What passes for art is in the eye of the beholder.

What passes for a worthwhile way to spend a buck is just as debatable.

So will hotel guests pay more to sleep under a Picasso or eat inside a piece of art posing as a bamboo hut? Some hoteliers say they already are.
The Conrad Indianapolis has been putting the theory into practice for nine years. Managers of the hotel at the corner of Washington and Meridian streets say they've done so with growing success.

The Alexander, at Delaware and South streets, began testing the concept in 2013. And 21c Museum Hotel, which plans to occupy the old city hall near Alabama and Ohio streets by 2018, intends to be the most grandiose art hotel of the three.

Making a mark in the industry via art can be a high-stakes gamble. Truly weaving art into the fabric of a hotel costs hundreds of thousands, if not millions, of dollars.

While hoteliers from The Gladstone in Toronto to Hotel des Arts in San Francisco have incorporated art for decades, the three Indianapolis hotels are riding a new trend that includes hiring curators, setting up in-house galleries, giving tours, and hosting art education classes and live performances.

Having three art hotels in a market the size of Indianapolis is an anomaly, said Visit Indy Vice President Chris Gahl.

"National media and meeting planners have taken notice," Gahl said. "Those three hotels will help sophisticate Indianapolis' brand while positioning the city as a hub for arts and culture."

That's just the idea managers for The Conrad Indianapolis had when the hotel opened in 2006—the same year 21c opened its first location, in Louisville.

Indianapolis has the only Conrad that significantly weaves art into its building, said local General Manager Greg Tinsley.

The Conrad's national office in McLean, Virginia, tasked each of its hotels with tailoring amenities with a local flare. The first thought was to highlight amateur sports or auto racing, Tinsley said. But that was quickly scrapped.

"Indianapolis has a tremendous amount of arts and culture to offer the world, and we wanted that to be a part of the guest experience," he said.

The art elements at The Conrad—including a gallery open full time to the public—were an instant draw for convention-goers and leisure travelers, Gahl said.

"This city had never seen a hotel quite like that," he said. "It opened some eyes."

The Alexander—a privately run independent hotel—followed suit, opening two years ago to mostly rave reviews. From wall tapestries to light fixtures designed by well-known artists and a bamboo hut in its restaurant, the hotel oozes art.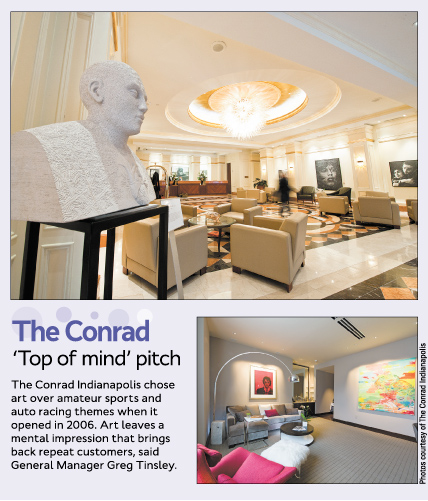 The pricey hotels might be good for the city's image and boost the hospitality industry. But does the strategy make business sense? It can, say industry experts.

'More than you imagine'

"When you have something that you will not see in any other hotel anywhere, that's going to be a serious draw," said Shannon Linker, Arts Council of Indianapolis vice president, adding that many central Indiana residents go to Louisville specifically to see 21c. "When you experience contemporary art commissioned for a specific place, that's a different experience. I have no doubt that experience adds to the bottom line."

21c has a full-time curator for each of its five hotels, plus an overall curator to oversee the collection across all hotels. Additional staffers keep the art museum at each location open 365 days a year.

The Conrad has trained 25 employees as "ambassadors" to help guests enjoy the art; they undergo four hours of training every six weeks. In addition, The Conrad contracts with local curator Rhonda Long-Sharp to run its gallery.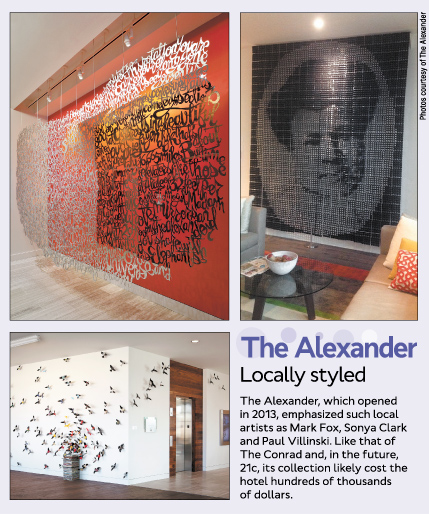 21c and The Conrad also conduct guided tours, lectures, live arts performances, film screenings and other cultural programming.

Alexander officials did not return calls seeking specifics on the hotel's art and programming.

The considerable operating expenses for personnel, maintenance, marketing and insurance for the art speak nothing to the costs of acquiring it.

"A lot of what you see in these hotels is museum quality," Linker said. "The cost of these pieces can be very large. With contemporary art, it's always more than you imagine."

Tinsley, the Conrad's manager, declined to discuss specific costs for his hotel's art, but called the investment "substantial."

"It works or we wouldn't still be doing it," he said. "The art creates a memory that stays top of mind when it comes time to revisit. That's the business angle."

World-renowned artists

The owners of 21c—husband and wife duo Laura Lee Brown and Steve Wilson—own 2,000-plus pieces of art, which rotate through their hotels. 21c also borrows pieces for display.

21c displays works of living artists only and has at least one site-specific piece commissioned for each hotel. Besides Louisville, locations include Cincinnati; Bentonville, Arkansas; Durham, North Carolina; and Lexington, Kentucky.

The Conrad has about 75 pieces of art at its Indianapolis hotel, with works from a range of artists—including Picasso, William John Kennedy, Andy Warhol, Robert Indiana and Russell Young—in the lobby, in a first-floor gallery and in the second-floor common areas.

The Conrad typically adds two pieces a year, but this year purchased 17 to be displayed in four art suites that opened this month. Those suites cost $400 more per night than the best available standard room rate, pricing the starting rate for an art suite at $850.

21c features such artists as Makoto Aida, subject of a retrospective exhibition at the Mori Art Museum in Tokyo; Carlee Fernandez, whose work appears in the Los Angeles County Museum of Art and Houston's Museum of Fine Arts; and Kentucky folk artist Marvin Francis.

The Alexander is tailored for the local market through a number of well-known artists and leans heavily on advice from officials of the Indianapolis Museum of Art and the Arts Council of Indianapolis.

Kim Beck has created silhouettes of local weeds. Sculptor Sonya Clark has created a portrait of the late Indianapolis hair care tycoon Madam C.J. Walker out of 3,840 combs. Paul Villinski has done a wall-mounted installation of birds on the second-floor common area made from vinyl records by musicians that include Gary native Michael Jackson.

Mark Fox's stream-of-consciousness text, cut from reflective stainless steel, notes that John Dillinger is buried 7-1/2 miles from The Alexander, and that hotel rooms are zones of "mirrors and copulation."

Narrow customer base

Not everyone thinks the art is a great profit maker. Mark Eble, Midwest regional vice president for PKF Hospitality Research, said art hotels narrow their customer base.

"No question, they're using their fashion-forward designs and art collections as a competitive position statement," Eble said. "It's defining who they are. But by that definition, they're not going to appeal to the type of wider audience drawn to a Sheraton or Hilton. Their target market essentially is wealthy people who perceive artistic ambience as appealing."

Recent hotel occupancy figures show that art hotels have tapped into a significant niche.

At about 77-percent occupancy, The Conrad Indianapolis is five points ahead of the downtown hotel market. Hospitality experts in Louisville said the 21c has been that city's downtown occupancy leader each of the last three years and is pacing above 70 percent, more than four points ahead of Louisville's downtown rate.

The Conrad, Alexander and 21c are likely getting a boost from an updraft for luxury hotels.

From 2010 to 2014, revenue per available room—a key measure of a hotel's overall financial health—is up 8.3 percent for luxury hotels nationally, according to PKF Hospitality Research. Revenue per available room for all other hotels is up less than 7 percent and some categories are up less than 6 percent.

"There's been little new supply in the high-end category, so they've recovered faster coming out of the recession and they're growing faster," PKF's Eble said.

The Conrad, Alexander and 21c are among the most expensive hotels in their markets. The Alexander's beginning room rate is $189 and The Conrad's is $159. The top ends soar, however. At The Conrad, the most expensive room costs $3,500.

Rooms at Louisville's 21c run $239 to $750. 21c rates are expected to be similar here, which would put it among the three most expensive hotels—along with the JW Marriott and Le Meridien—based on entry-level rates.

Business driver

Although The Conrad's art is "meant to complement," never replace, high-service standards, Tinsley said there's no doubt it's a business driver. The Conrad even ramped up its art focus four years ago.

So how does the hotel measure the art's return on investment? Tinsley said visitor surveys show art as a top reason for bookings; media coverage and social media impressions help with marketing, too.

A search of Trip Advisor—one of the top online hotel-review sites—turns up rave reviews about art at not only The Conrad, but also The Alexander and 21c.

But PKF's Eble isn't convinced.

"Their strategy has been effective, but it's still difficult to say if it makes economic sense," he said.

Specifically, he said, the millions of dollars spent on art by the 21c founders wouldn't make as much sense if they weren't already art collectors.

21c CEO Craig Greenberg understands the skepticism.

"We've created a very interesting business model for the hotel and museum industries," Greenberg said. "We don't fit in any box neatly."

Clearly, 21c is no ordinary business. Eble said it might not have been the first art hotel, but in terms of the art it displays, "It's in a class by itself in the hotel industry. It's world famous for its depth and breadth."

21c's co-founders are no ordinary operators. Some say they're as unique as the art in their hotels.

Brown, 72, is Kentucky aristocracy—her grandfather founded what is now Brown-Forman, the maker of Jack Daniels and Southern Comfort.

Wilson is a 65-year-old former public-relations officer for four Kentucky governors.

The two were renowned art collectors long before becoming hoteliers. They opened their first hotel primarily to display some of their collection and to help revive part of downtown Louisville.

They were fed up with urban sprawl in their beloved Bluegrass State and saw no reason businesses couldn't find a home in revitalized downtown areas.

While much of the money for the art at 21c comes from its owners' personal wealth, The Conrad's is built into operating expenses.

"If you're charging a premium price, you have to offer a premium product," Tinsley said. "You have to invest in that."

'People thought we were crazy'

Greenberg dispelled the notion that 21c is simply an art-themed hotel. It's as much museum—maybe more—as hotel.

For downtown Louisville, it's an absolute showpiece.

Condé Nast Traveler magazine readers voted 21c Museum Hotel among the top 10 in the world in the 2009, 2010 and 2011 Readers' Choice Awards. Trip Advisor has rated 21c among its top 10 U.S. hotels, most recently in 2014.

Hotel officials are still negotiating with Indianapolis officials for the $55 million development. The hotel has agreed to pay $29 million to build a 150-room hotel attached to and incorporating the old city hall.

The acclaim is a long way from the reaction Brown and Wilson received when they opened their Louisville hotel, in March 2006.

"People thought we were crazy," Greenberg said. However, Kentucky Department of Travel and Tourism spokesman Scottie Ellis said, "Right from the start, the positive reactions poured in. People from all over came to see and experience it."

Feedback was so overwhelming that, two years later, the 21c founders were talking of more hotels. Some cities actually sought out 21c to be considered for expansion, Greenburg said.•