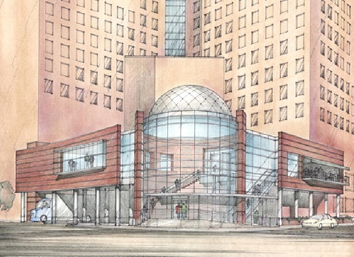 The owner of PNC Center at Illinois and Maryland streets has drawn up plans to reconfigure the back of the property, near the building's loading docks, to accommodate construction of a restaurant as large as 15,000 square feet.
Equity Commonwealth, the Chicago-based owner of the property, has tapped downtown retail broker Brian Epstein to market the high-profile site to restaurant companies.
"That's a home run," Epstein said of the location. "You've got [Circle Centre mall] and you're close to the [Indiana] Convention Center. We see it as a great amenity to downtown."
A conceptual drawing from CSO Architects features a glass-heavy entrance and outdoor seating on the second level. However, Equity Commonwealth would build to suit a specific tenant rather than construct a restaurant on a speculative basis, Epstein said.
Epstein already has marketed the site to a handful of restaurant operators and hopes to meet with more at the International Council of Shopping Centers conference May 17-20 in Las Vegas
"We want to get something unique and new to the market," he said. "It's too good of a corner."
Bill French, a retail broker at DTZ, doubts it will take Equity Commonwealth long to generate a list of candidates..
"It's going to attract a lot of attention—that's for sure," he said. "It would certainly be a game-changer for that real estate."
Retail brokers say there have been on-and-off conversations over the last 20 years about developing a restaurant on the site. French and Epstein said they were involved in past deals that fell apart. Similarly, Steve Delaney, a restaurant broker at Sitehawk Retail Real Estate, said he once was recruited to market plans for a second-level restaurant that would have been built above the loading dock.
"It's Main and Main in terms of a restaurant site," Delaney said of the location.
A restaurant might have a better shot at being built there now. The downtown dining scene is increasingly vibrant , thanks to a robust convention business and a growing residential population.
Two blocks north of Illinois and Maryland, Keystone Realty Group's total rehab of the vacant Illinois Building is bringing two more restaurant choices to the downtown market. The developer said in separate announcements this month that Chicago-based Giordano's will open there in November with Cleveland-based Hyde Park Prime Steakhouse following early next year.
A block to the east of the PNC site, Yard House opened late last month. Across the street from Yard House, the owner of the former 14 West building is targeting a restaurant to occupy the first and second levels.
The PNC Center, formerly known as National City Center, opened in 1976. At nearly 650,000 square feet, it's the city's 12th-largest office complex. It also houses the Hyatt Regency Indianapolis, the city's fourth-largest hotel, with 499 rooms.
Besides PNC Center, Equity Commonwealth also owns Chase Tower.
Please enable JavaScript to view this content.