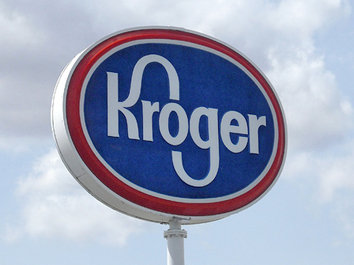 Cincinnati-based grocer The Kroger Co. on Wednesday divulged more details of a wide-ranging plan to beef up its operations in central Indiana, including creating or remodeling dozens of stores, establishing a regional training center, and creating an estimated 3,440 jobs.  
The supermarket firm expects to invest at least $464 million in its growth plan for the nine-county Indianapolis area, executives said.
"Kroger has remained very competitive in the marketplace because we recognize the critical importance of investing in stores with features appropriate to the 21st century marketplace and evolving customer expectations," said Jeff Burt, president of Kroger's central division in a prepared release.
The four-year plan actually kicked off quietly in 2014, and projects are expected to extend through 2017. A handful of the projects in the overall plan already have been completed or are under way, but the bulk will take place in the next three years, said John Elliott, spokesman for Kroger's central division.
Here's a rundown of the major projects:
— Kroger's plan calls for building seven of its Kroger Marketplace stores, which are the chain's largest locations at about 125,000 square feet. The locations will include stores at 11700 Olio Road in Fishers; U.S. 31 and Mallory Parkway in Franklin; 8850 South Emerson Road and 5325 East Thompson Road in Indianapolis; and three others to be announced later. It would spend $141 million on the stores and create 1,530 jobs.
At least three of the Marketplace stores would replace existing Kroger stores, and one would be new location. The job numbers would be in addition to current employment at the existing stores to be replaced.
— Kroger would build four new stores at the following locations: State Road 135 and Smokey Row Road in Greenwood; 116th Street and Michigan Road in Zionsville; Southport and Franklin Roads in Indianapolis; and another location to be announced later. It would spend $75 million on the stores and create 710 jobs.
— Kroger would expand five stores: at 1217 South Range Line Road in Carmel; Independence Drive at U.S. 31 South in Greenwood; 150 W. 161st Street in Westfield; and two others to be announced later. It would spend $58.3 million on the expansions and create 580 new jobs. The Carmel and Westfield projects already are under way.
— Kroger would remodel 17 stores: at 530 S. Indiana St. in Mooresville; 1571 N. State St. in Greenfield; 1700 Northwood Plaza in Franklin; 2550 Lake Circle Drive, 5025 W. 71st St., 4202 S. East St. and 5911 S. Madison Ave., all in Indianapolis; as well as 10 additional expansions or remodels to be announced later. The total remodel investment would be $95.5 million, resulting in 480 jobs. Several of the remodelings already have been completed.
— Kroger's plans also include remodeling 22 pharmacies and creating 16 fuel centers.
To help accommodate its increase in hiring, Kroger plans to establish a 7,000-square-foot regional training center in Indianapolis for salaried management and hourly workers. The cost and location of the center was not immediately clear.
Central Indiana grocery stores have faced growing competition in recent years from the arrival of numerous specialty stores such as Fresh Market, Fresh Thyme Farmers Market, Trader Joe's and Earth Fare, as well as the addition of several Wal-Mart Neighborhood Markets.
Those players joined an already competitive market between Kroger, Meijer, Marsh and SuperTarget.
In early April, locally based Marsh announced that it would close four stores in Indiana, including three in the Indianapolis area.
Kroger executives expected its growth plan to act as a catalyst for the local construction industry and on its suppliers, including many Indiana-based firms. It also would help solidify its current operations.
"Strategically investing in our people and our stores will provide job security to thousands of current and new associates in central Indiana and give us the resources to continue generously supporting hundreds of local community organizations across Indiana," Burt said.
 
Please enable JavaScript to view this content.