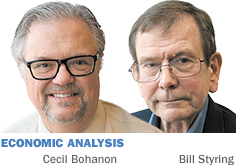 "Negative real interest rates are impossible." That's econ-speak for the simple idea that you have to be nuts to pay someone to borrow money from you.
Styring would have to be smoking a controlled substance to lend Bohanon $100 on his promise to pay back $99.75 a year from now. He's better off just stashing $100 under the mattress.
Yet that is exactly what is happening in Europe, and it has consequences for Hoosiers.
The one-year zero-coupon German government bond is selling for more than its redemption value. What accounts for this odd and seemingly irrational state of affairs?
In a desperate attempt to get the European economy going, the European Central Bank is charging its member banks to hold reserves. The idea behind the deposit penalty is to induce European banks to increase lending to private borrowers and jump-start the European economy.
Banks in Europe are required to hold reserve as deposits at the central bank or in safe government bonds. If a bank in Brussels holds 100 million euros as a deposit at the central bank, it will have 99.75 million euros in that account a year from today. This makes 100 million euros in a one-year German government bond at least as attractive as a central bank deposit.
Negative-yield government bonds are a byproduct of the central bank penalty on banks' deposits coupled with its reserve requirements.
However, at this point, all that seems to be occurring is that European governments are getting paid to borrow money. We have the insane spectacle of deficit finance as a government moneymaker!
It also means that low-but-positive-yielding U.S. government bonds are really attractive. The yield on a U.S. one-year T-bill is around 0.25 percent, while its German counterpart yields around -0.25 percent. A lot of foreign funds are channeling into U.S. government bonds, which drives up the value of the dollar.
So what does this mean to Indiana?
The good news is, if you have always wanted to see Berlin, Barcelona or Paris, this is the year to do it. Ten thousand euros that cost you around $13,900 last year cost only around $10,900 this year.
The bad news: Consider an Indiana manufacturer that exports a $10,000, Indy-made gizmo to Europe. Last year, it cost European customers 7,250 euros, but now it costs 9,200 euros, making the Indy gizmo less competitive.
As Indiana is the most manufacturing-intensive state, we expect the Hoosier economy to take an outsized hit from Europe's nutty negative interest rates.•
__________
Bohanon is a professor of economics at Ball State University. Styring is an economist and independent researcher. Both also blog at INforefront.com. Send comments to ibjedit@ibj.com.
Please enable JavaScript to view this content.