The area surrounding Methodist Hospital at Capitol Avenue and West 16th Street could be ripe for much-needed redevelopment following Indiana University Health's announcement that it will spend $1 billion to expand the campus.
IU Health said late last month that it will construct a new medical center and tear down existing, 100-year-old buildings as part of a five- to seven-year project to transform the way it provides health care.
The expansion could be the catalyst the neighborhood sorely needs. Residential and retail redevelopment has been slower to materialize in the area just north of downtown than in downtown's core.
"A billion dollars—I can't even comprehend that," said Michael Osborne, president of the Near North Development Corp. "I don't know of anything that has even come close to that."
The Methodist campus along Capitol Avenue would look vastly different once work begins. Plans call for tearing down the oldest buildings at 16th and Capitol, followed by construction of new facilities focused on serving walk-in patients.
The buildings that have been stitched together through the years are woefully inefficient for today's modern world and too expensive to renovate, with their mismatched floor plates and other peculiarities that have left entire floors unusable, real estate observers said.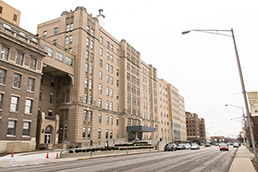 Parts of Methodist Hospital that are 100 years old are woefully inefficient for today's health care needs and will be torn down as part of a plan for a new health care center. (IBJ file photo)
"[Hospitals are] less about an architectural masterpiece than they are about function," said Mike Dilts, CEO of Shiel Sexton Co. Inc., who's not involved in the project. "It's usually a series of barnacles, and this plays out across the country."
It's too early to know which buildings will come down and whether the new medical center will stand alone or be incorporated into existing structures, IU Health spokeswoman Whitney Ertel told IBJ.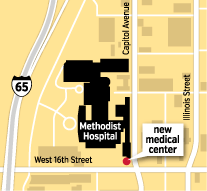 The IU Health board's April 23 approval of the plan "allows the team to move into the next phase of planning and design," she said in an email. "This is where more detailed decisions will be made."
What's more certain is that the project will improve patient care and access to the campus, IU Health CEO Dan Evans said in an April 24 conference call with reporters.
"Patients coming down 16th Street not knowing how to enter the hospital, that will stop," he said. "That is inexcusable."
The Methodist investment is part of a broader IU Health plan to boost efficiency by closing University Hospital on the IUPUI campus, reducing its downtown in-patient facilities from three to two. As part of the restructuring, IU Health intends to shift all obstetrical and newborn care from Methodist to Riley Hospital for Children on the IUPUI campus.
Methodist and University together boast 1,200 licensed beds, but only 800 to 850 are occupied per day.
The Methodist expansion could spur development of more restaurant choices around the hospital. The area currently has few options beyond McDonald's, White Castle and Hardee's outposts.
The expansion also could spur development of apartment projects to serve the campus' changing workforce, though the number of employees is expected to remain the same.
Improving efficiency
Under the restructuring, clinical services will move to Methodist from University, which will close upon completion of the expansion but could reopen as a post-acute or rehabilitation hospital. The expanded Methodist campus will include space for classrooms and faculty offices for the Indiana University School of Medicine, which will split its campus between that location and IUPUI.
In 2003, the School of Medicine built the Biotechnology Research and Training Center at West 16th Street and Stadium Drive. Farther west, about a decade later, Core Redevelopment renovated the old Bush Stadium by converting it into the Stadium Lofts apartment project.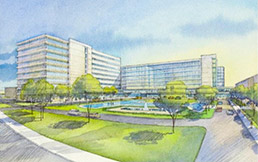 The $1 billion project would take five to seven years to complete and reduce the number of IU Health's downtown in-patient facilities from three to two. (Rendering courtesy of Indiana University Health)
IU Health's plans for Methodist could draw similar development closer, said Ross Reller, director of land services for Colliers International's Indiana region.
"We've seen other things related to IUPUI occur, up on Stadium Drive," he said. "But we really haven't seen a lot happen between Stadium Drive and Methodist Hospital, although I think there is some land in there that could be available."
Also poised for development is the vacant parcel at the northeast corner of 16th and Capitol, where Crawford's Bakery once stood. The building was demolished late last year. An out-of-state owner controls the land.
"It goes without saying that if you do that type of redevelopment, other things could follow," Dilts at Shiel Sexton said.
Transit lift
Osborne said the area should get a further boost from the Red Line, a proposed rapid-transit, all-electric bus route that would stretch 28 miles from Hamilton County to Johnson County.
Transit stops are slated for 16th and Capitol, in addition to 22nd and Meridian streets, raising the potential for development even higher, he said.
"It will be a big driver in creating a high-density residential area around it," Osborne said of the Methodist expansion.


IU Health expects its consolidation to reduce the total space of Methodist and University hospitals from 4.2 million square feet to about 2.5 million square feet, a 40-percent decrease in square footage.
The proposed $1 billion expansion marks the second attempt by IU Health to improve the Methodist campus.
The hospital system planned in 2011 to spend $73 million to construct an administrative office building at 16th and Capitol but instead purchased the Gateway Plaza tower at 10th and Illinois streets.
IU Health still moved forward with its $120 million neurosciences hub across the street.•
Please enable JavaScript to view this content.