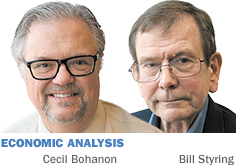 This is our "strange bedfellows" column. We never thought we'd toss a bouquet to Bernie Sanders, the socialist senator from Vermont and recently declared Democratic presidential candidate. But he has one thing right: The Export-Import Bank should be abolished.
The bank is a Depression-era agency whose job is to pass out subsidies to U.S. exporters. It sounds enticing. Let's make our exports more "competitive," "create jobs" and do all the wonderful things that are always claimed for government subsidies for this or that.
In fact, the bank is corporate welfare and cronyism at its worst. It decides which firms are worthy of its largess. Ten firms routinely grab 80 percent of the loot. In 2012, Boeing alone received 82 percent of the subsidized credit. Solar-panel maker Solyndra partook and stiffed the taxpayers when it went belly-up.
You've never heard of an outfit called Rosoboronexport, but it's been on the bank's goodie list. What is it? The Russian government's arms export agency!
Unless its charter is renewed, the bank goes out of business June 30. And a stranger set of bedfellows would be difficult to find.
On the let's-get-rid-of-it team are Sanders, House Financial Services Committee Chairman Jeb Hensarling, House Majority Leader Kevin McCarthy, about half of the Republican House rank and file, and a handful of anti-corporate-welfare House Democrats. Bohanon and Styring carry a water bucket for these guys.
The other half of the House Republicans, the "pro-business" chamber of commerce wing, supports the bank. These guys should turn in their free market rhetoric and check their opposition to government handouts at the door. Corporate welfare is still welfare.
President Obama used to captain the ditch-the-bank team. As candidate Obama in 2008, he rightly described the bank as "little short of a slush fund for corporate welfare." Now he supports extending the bank's charter. We liked him better as candidate Obama.
Sen. Elizabeth Warren, one would think, should automatically be opposed to such blatant giveaways to the "1 percent." She supports extending the bank's charter. Guess she never saw a spending program she didn't like.
Speaker John Boehner is … being Speaker Boehner. He's straddling, or trying to straddle, his deeply split caucus.
We wouldn't be surprised if the bank survives. Once granted, taking away a government subsidy of anything is mighty hard to do. But if we can't unload the bank turkey, the federal Leviathan is here to stay.•
__________
Bohanon is a professor of economics at Ball State University. Styring is an economist and independent researcher. Both also blog at INforefront.com. Send comments to ibjedit@ibj.com.
Please enable JavaScript to view this content.