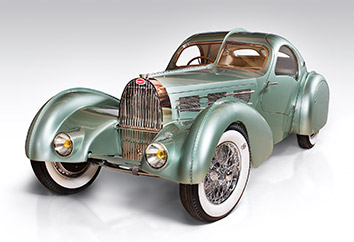 I was never the guy who sketched a Camaro in his high school binder or paid any attention to what car James Bond was driving. But the fact that I never dreamed of cars didn't diminish the appeal of "Dream Cars" (at the Indianapolis Museum of Art through Aug. 23).
Subtitled "Innovative Design, Visionary Ideas," the exhibit brings together cars that were not created for the mass market but were, instead, meant to showcase developments in styling and engineering.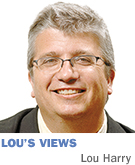 An IMA car show? The idea generated some cynicism, but there's certainly marketing value in having a mass-appeal subject anchoring the first major show since the IMA's transition to paid general admission, particularly in the month of May.
These four-wheel objects have just as much right to be housed at the IMA as the Dyson vacuum in the second-floor design gallery.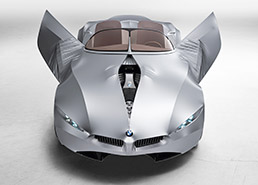 BMW GINA Light Visionary Model (Photo courtesy of BMW AG,)
Whether it's the curvilinear arch of the 1934 Voisin C-25 Aerodyne or the as-bug-like-as-it-sounds 1936 Stout Scarab, the artistic quality is obvious. The effort to be forward-thinking, of course, can lead to some hindsight silliness: The Norman Timbs 1947 Special, for instance, looks more likely to have been driven by Roger Rabbit than by a human being. All sparkle under the smart lighting of this well-designed show. I only wish at least one were perched on a spinning platform.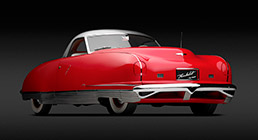 Chrysler Thunderbolt. (Photo courtesy of Michael Furman)
Beyond the cars, the show features designs and sketches—among them, Buckminster Fuller's three-wheel Dymaxion car from 1981—as well as artwork, much of which looks like what you'd find at a science fiction art show. And you never know what trivia will stick in your brain from reading the accompanying display material. I, for instance, had no idea those paired front-bumper extensions that look like artillery shells are known as "Dagmars," an homage to the well-endowed 1950s TV personality of that name.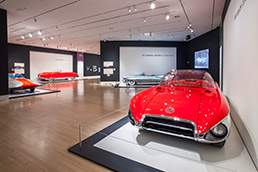 Installation view of "Dream Cars: Innovative Design, Visionary Ideas" at the IMA. (Photo courtesy of the Indianapolis Museum of Art.)
The exhibit has been accessorized smartly. The museum's interactive, kid-focused Davis Lab now houses a car design studio, whose software is also available as an iTunes store downloadable app. Videos and other details are packed on iPads. And separate audio guides are available for kids and adults. Remote-control cars and a car-break-in workshop (I kid you not) are part of the June 6 family day. And, while it might be coincidental, the road trip comedy "National Lampoon's Vacation" kicks off the Summer Nights movie series on June 5.
The downside of "Dream Cars"? Expect to drive away from the show feeling just a little let down by your Kia Rio.•
__________
This column appears weekly. Send information on upcoming arts and entertainment events to lharry@ibj.com.
Please enable JavaScript to view this content.