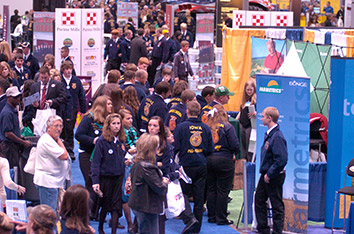 The National FFA Organization is negotiating with Indianapolis hospitality officials to bring its massive annual convention back to Indianapolis for three more years than expected, the organization announced Thursday.
The National FFA Convention & Expo, which attracted 64,000 visitors last year, is already scheduled for a pair of three-year stints in Indianapolis, from 2016 to 2018 and from 2022 to 2024. It is set to wrap up a three-year stay in Louisville later this year with its 88th annual convention.
But FFA organizers say they are dropping their contractual option to hold the event in Louisville again from 2019 to 2021.
   
"After careful evaluation by the FFA board of directors, the board has made the decision that FFA will not return to Louisville for 2019-21," the Indianapolis-based organization said in a written statement. "As a result of this decision, the organization is currently in negotiations with Indianapolis to host the National FFA Convention & Expo from 2016-2024."
Convention organizers said Indianapolis was more capable of handling the convention because it offers more meeting space and hotel rooms.
"Over the last few years, our membership numbers have continued to increase, and as a result, attendance at the National FFA Convention & Expo has increased as well," the FFA's statement said. "This has resulted in the need for more meeting room space and hotel rooms during the week."
Indianapolis is no stranger to the annual convention. It hosted the event for the first time in 2006 and kept it six more years, until 2012. It was the city's largest annual convention during the seven-year stay.
The 2012 event drew 56,176 attendees, had an estimated economic impact of $38 million and used about 50,000 hotel room nights.
Formerly known as Future Farmers of America, the FFA brings members from across the country to the convention to be educated on a range of topics, including science and agriculture. The event is well-known for attracting throngs of well-mannered teens wearing trademark blue corduroy jackets.
"Replacing a convention like the FFA isn't easy," Liping Cai, a Purdue University professor of hospitality and tourism management, told IBJ in 2012. "It not only has a tremendous impact on downtown, but pushes a substantial amount of business into the suburbs."
Please enable JavaScript to view this content.