Flix Brewhouse isn't the first Indianapolis-area theater to attempt to upgrade the standard movie-going experience. From the old Hollywood Bar & Filmworks through Studio Movie Grill and Latitude 360, owners of such establishments have experimented with ditching the inattentive ushers/limited food choices formula in search of something to lure fed-up former patrons back from their increasingly larger home screens.
How does the Texas-based Flix—which recently opened its first Indiana location (2160 E. 116th St., 824-9111)—tweak the mix?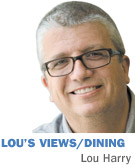 For one, true to its name, it brews its own beer, with tanks visible in the lobby/bar area. Boasting of being the only first-run movie theater in the world to include a fully functioning microbrewery, it offers six core beers—including Umbra Chocostout, Satellite Red Ale and Flix Golden Ale—supplemented with up to 40 drafts. That, combined with its sizable lobby bar and dining area, allows Flix to market itself even to those who have no intention of going to see a movie or those who want to hang out and debate the relative merits of past and present "Mad Max" movies.
Another big change: Flix has a firm age policy. That means infants, toddlers and strollers aren't allowed at all except during special "Baby Day" events. Ages 2-5 are OK only at G and PG movies. Ages 6-16 are allowed only at G, PG and PG-13 shows when accompanied by an adult. Remember when you saw "Saving Private Ryan" in a theater with a trio of under-10-year-old kids running around? I sure do. And I'm happy to hear that won't happen at Flix.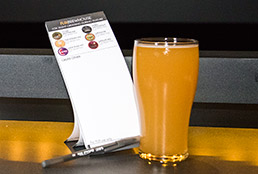 Silent ordering forms and brewed-on-premises beer at Flix Brewhouse. (IBJ Photos/ Eric Learned)
The policy goes further and does get a little strange after that. Those ages 17-20 can come without an older adult only to shows before 7 p.m. I wouldn't want to be at the box office to witness a group of 20-year-olds being turned away from an evening PG movie. Then again, maybe I would. The confrontation could be more dramatic than much of what's on screen.
Late-comers of any age aren't admitted at all.
What about the annoying cell phone users who do arrive on time but always seem to find a seat near yours? Or, worse, can be heard from across the theater?
Flix has a written policy of, "You talk, you text, you leave." On my visit, that policy didn't need to be enforced, but it's nice to know that reporting a violator is easier than having to get up and find a manager. The same button you push to order food can be used to let a waiter know of other problems.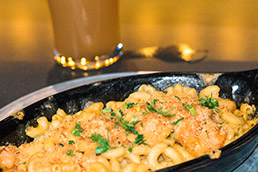 Homestyle Mac N' Cheese with shrimp is one well-beyond-popcorn offering at Flix Brewhouse.
Speaking of talking and eating, such movie/restaurant hybrids seem to have distractions built into their DNA by virtue of interactions between patrons and the waitstaff. Here, though, once the movie starts, orders for food are handled silently. A pad and pen is provided at each seat, with servers summoned with the touch of a button. These cinematic ninjas show up quietly, take the pad, and scoot to the kitchen without a peep of distraction. And last call is 30-40 minutes before the end of the movie. The system worked well on our visit. Vocal service was provided in a friendly manner before the show, then became stealth-like once the lights dimmed.
As for the food itself, our visit neither delighted nor disgusted. Baked Potato Skins ($6.95) were the standard variety you'd find at most casual-chain dining spots, with a quintet of spud halves filled with smoked cheddar and jack cheeses and topped with enough bacon, green onion and sour cream. Homestyle Mac N' Cheese ($9.96, with a $2.50 shrimp upgrade) wasn't nearly as creamy as promised, but seemed to have shrimp in every bite.
I'm not sure what I was thinking when I ordered the Chicken Fried Chicken & Biscuits ($12.95), a dish better devoured with lights on. The sliced chicken breast medallions, fried in Flix Golden Ale tempura, worked better than the tough buttermilk drop biscuits, though the thick house-made black pepper cream gravy helped soften them (while also inflicting damage to my shirt). Green beans were a plus, as were the quietly sliding tabletops.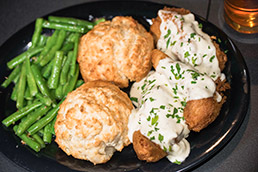 Chicken Fried Chicken & Biscuits.
Popcorn ($4.95) is delivered, too. I'll know next time to request less butter. The menu includes a variety of pizzas (10-inchers at $9.95-$12.95), burgers and sandwiches ($8.95-$11.95), and more entrees, including a Grilled Salmon Filet ($12.95) and Fajita Street Tacos ($9.95). All items on the kids' menu are $5.95.
As for the screening itself, we can debate the merits of "The Avengers: Age of Ultron" elsewhere. Here, the movies are presented in high-definition digital, with wall-to-wall curved screens. The high-backed chairs are comfortable, with plenty of leg room. And specific seats can be pre-purchased.
Unlike other theaters, Flix doesn't have an exterior wall covered with now-playing posters, nor a marquee serving a similar purpose. Driving through the Merchant Square parking lot, you'll have no idea what's playing. Inside, electronic posters are mixed with ones celebrating Indiana-born movie stars, including Steve McQueen and James Dean—a nice, localizing touch.•
__________
This column appears weekly. Send information on upcoming arts and entertainment events to lharry@ibj.com.
Please enable JavaScript to view this content.