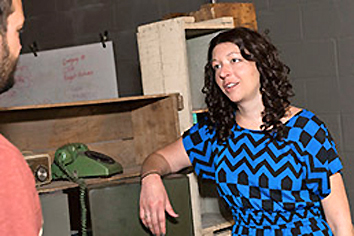 Denver Hutt, the executive director of The Speak Easy in south Broad Ripple, plans to step down before the end of the summer.
The 28-year-old California native became the first director of the co-working space—often called a Moose Lodge for startups—in February 2012. She said she's been mulling the move since the beginning of the year and decided in early May  to pass the reins.
"I know I work best in environments that are really blank canvasses and really chaotic," Hutt said about the not-for-profit. "Knowing that we're no longer in that early phase, I decided it was the right time to bring in a fresh set of eyes that can optimize on stability and growth now that there is some structure in place."
The Speak Easy was founded by Indy entrepreneurs and advisers Dave Castor, Andy Clark, Jeb Banner and Kristian Andersen. It operates out of a former carpet warehouse at 5255 N. Winthrop Ave. and is known for its couches, collaboration and craft beer.
It's a members-only spot geared toward upstarts ready to upgrade from kitchen tables and coffee shops but not quite ready to lease office space. It has about 200 members, including some outside of the tech industry.
Besides co-working, The Speak Easy hosts several dozen networking events a year, some drawing more than 100 people.
Andersen, who leads design firm Studio Science, said Hutt was the consensus choice when The Speak Easy board hired her a few years back. She's an action-oriented visionary, he said, and she helped establish the organization as a premier entrepreneurial destination.
"Her focus on building world-class entrepreneurial programming can't be overstated," Andersen said.
"It would have been easy for The Speak Easy to just turn into a social club, but under Denver's leadership it became one of Indy's most vibrant centers for discourse, training and education—around all things entrepreneurial."
Hutt said she'll be heavily involved in the search for the next director, applications for which are due at the end of May.
She plans to assist with the transition until the end of the summer or until she lands her next job, whichever comes first.
Banner, the CEO of local marketing firm Smallbox, said Hutt will be difficult to replace.
"Denver has been the heart and soul of the Speak Easy since we opened," he said. "She has been a fierce guardian of our mission, the space and our members. We are here today because of her. It will be hard to fill her shoes."
Hutt, an Indiana University alumna who stumbled upon entrepreneurship, said she's looking to stay involved with "bridge building" and, hopefully, stay local.
"I would love for Indianapolis to find a place for me to stay in Indy," she said.
"A huge part of my job has been connecting members with one another and connecting members to assets in the broader community. I've done that for the entrepreneurial space, and I'm really hoping to have an opportunity to do that across the city."
 
Please enable JavaScript to view this content.