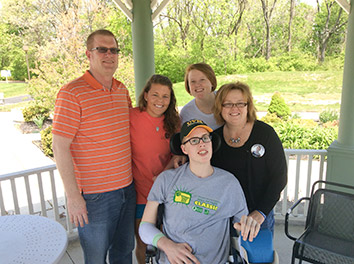 How long does it take for a parent's world to go dark? A phone call. An urgent voice on the other end from the hospital. Come quickly, there's been an accident. Your boy is badly hurt. The basketball hero who needed to be cut out of his crushed car. And suddenly, everything is different.
Josh Speidel is an Indiana All-Star from Columbus North High School and a University of Vermont recruit, so there has been considerable attention paid his Feb. 1 auto accident, and a long recovery very much in progress. How's Josh doing? So many want to know. Josh, by the way, is doing remarkably well, all things considered.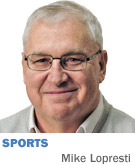 But there is another question to ask. How are Dave and Lisa doing? For this is about a father's nightmare lived and a mother's worst fear realized, and the trek with their son, who has gone from coma to movement, from movement to understanding, from understanding to speech. One step, one day, one prayer at a time.
"We're on a marathon," Lisa said. That's what a doctor told them it would be, and that's what it is, across a mountain range of feelings. "It's emotional. Sometimes it's overwhelming. Sometimes, it's just heavy. And sometimes there's joy." She was in the lobby of the Rehabilitation Hospital of Indiana. So was Dave. Someone from the family is always here, 24/7. Someone always has been there for Josh, through three hospitals and 15 weeks.
All those days, all those nights, never leaving. Waiting for their son to wake up. And when that finally happened, waiting for progress to show he was getting better. Any little thing.
"I remember at the hospital I would literally look at the clock," Dave said, "and it wouldn't move."
Lisa agreed.
"I have a much clearer understanding of what unconditional love is." Her voice breaks. But really, what mother's voice wouldn't?
They can tell you the moment it all started.
"We were watching the Super Bowl," Dave said. The phone rang, showing a strange number. They decided not to answer, thinking it was a sales call. How could they know it was the Indiana State Police?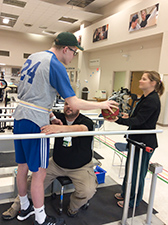 Josh Speidel's love of basketball has spurred his recovery. (Photo courtesy of Lisa Speidel)
It rang again moments later, this time from Columbus Regional Hospital. They remembered Josh had gone to work out and mentioned stopping to get something to eat. When he left the fast food restaurant, he had pulled out in front of a vehicle rolling off a ramp from nearby Interstate 65. He had forgotten his wallet, so had no identification. One of the first medical responders recognized him from his basketball.
They can tell you what it was like following the ambulance up Interstate 65 that winter night, headed for Methodist Hospital.
"I remember praying, 'God, give me every emotion I need, so when we walk into that hospital, we're ready to do this with Josh; we're ready to face whatever may come,'" Lisa said.
They can tell you about some of the dark moments. Such as the meeting with the doctors three days after the accident, when they were shown the MRI of their son's brain and all the terrible damage and told the scenarios, including the worst.
"I felt nauseous," Lisa said.
Or 20 days after the accident, when they returned to Columbus for the first time. It was Senior Night for the Columbus North basketball team, and they felt they had to be there for Josh, and accept all the best wishes.
"Walking into the gym for me, I was thinking it would be all right," Dave said. But then he saw the table with all the pictures of his son and it was so very, very hard for him. Still is, thinking back on it. He was supposed to be hugging his son there that night, not representing him. On the way to Senor Night, they had exited I-65, and as they neared the site of the accident for the first time, "I had my first panic attack," Lisa said.
They can tell you about how their faith has kept them afloat, and so has the support of family and friends and strangers.
"I can't imagine going through this alone," Lisa said.
That support includes bosses who are understanding. Dave works at Frontier Communications, Lisa is an assistant principal at an elementary school in Seymour. They work as much as they can, alternating days so the other can stay with Josh, running a relay of care and hope.
They can tell you about the victories. About the first flutter of Josh's eyes, after four weeks of coma. The first time he squeezed their hands. The first time Lisa heard her son say a single word, late one night when it was just the two of them in a quiet room: "Mom."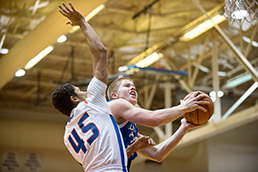 Josh Speidel and his Columbus North High School team battled Jennings County less than a month before his Feb. 1 auto accident. (Photos courtesy of The Republic)
She cried, of course. She celebrated. "I think about everybody in the hospital knew what happened," Lisa said. "That was like a turning moment."
They can tell you how far their son has come. Once, the basketball court was where he accomplished his feats. Now, it is a hospital on the west side of Indianapolis.
"At first, when you looked into his eyes, they were just dark and deep and very hollow. Now, he's there. It's Josh," Dave said. "Literally eight weeks ago, we had yes and no on a piece of paper, and we would ask, 'Josh, do you know you have [two] sisters?' And we looked to see if his eyes went to yes or no. We've gone from there to now where I'm talking to my son."
They can tell you about the first weeks after he awoke from his coma, when he still had no speech or alert responses. But when a basketball game was on TV in front of him, they looked at his fidgeting body language and knew he was excited. They understood his brain, fighting to heal, had not forgotten what the game meant to him.
The marathon goes on. Josh has started to talk about the accident.
"One to 10, how bad was it?" he asked one day. "Eleven," his mother told him. He has asked if it was his fault. They tell him accidents happen, and the important thing is that he work to get better.
He was even trying Nerf basketball shots with his father the other day. All of his milestone steps have been recorded in a journal his parents share with him, to help him remember.
"He's going to Vermont and he's playing ball," Dave said. "He'll tell you that."
And they can tell you what all this has done to them. How it's made them feel closer to so many people, made them more understanding of what it means to feel supported. Dave talked of his renewed intentions to reach out to others who are facing adversity.
"I hope this has changed us in that way," he said.
"People tell us, 'You guys are so strong,'" Lisa said. "And I think, 'Isn't every parent supposed to do this?'"
Suddenly, there was Josh, wheeled into the lobby by his sister Jamie. He is a polite teenager who can charm ice cream out of the nurses at 2 a.m. He proudly pointed to the Vermont shirt and pants he was wearing. His sense of humor is recovering fine.
"Can you bust me out of here?" he asked me.
He tried to extend his fingers on his left hand, one at a time, as if counting. The left side is still the one most affected by his brain trauma. Lisa likened it to files, scattered by a wind storm, having to be put back into the brain, one by one.
"It's hard. Why is it hard?" he said of his left hand. Then he looked at his mother and remembered the answer. "Because I was in a wreck."
His parents talk of the goals to come. One is June 6, high school graduation. They want so much for him to be able to get there, and also possibly to be introduced at the Indiana-Kentucky All-Star Game. That would bring down the house. But nobody knows yet. More files must be restored. They have put the graduation date in his journal, so he will remember to work toward it.
As Josh talked to a visiting friend who had brought three balloons, there was a moment to reflect for two parents in a hospital lobby, miles from the home they rarely saw for weeks, bound together by faith, and a journey with a son.
"I told someone, 'I'm not sure what God is teaching me,'" Dave said. But he knows it's something.
"There have been some dark days, but there has also been a sense of peace," Lisa said. "God's got this. He's going to take care of my baby."
They looked at each other, and suddenly held hands. A father and mother on a marathon, who intend to run the last mile, but only when their son can run it with them.•
__________
Lopresti is a lifelong resident of Richmond and a graduate of Ball State University. He was a columnist for USA Today and Gannett newspapers for 31 years; he covered 34 Final Fours, 30 Super Bowls, 32 World Series and 16 Olympics. His column appears weekly. He can be reached at mlopresti@ibj.com.
Please enable JavaScript to view this content.