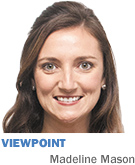 Last year in April, I was mistakenly "fired." I was in my third year of teaching at Harshman Magnet Middle School in Indianapolis Public Schools. My name appeared on a list sent out in error, releasing teachers based on the old "last in, first out" practice.
I'm thankful the policy doesn't exist in IPS anymore, but the incident became a turning point in how I feel toward my job and district. In the two days it took to sort out the mess, I began researching new teaching jobs in places like Washington, Warren and Lawrence townships.
The most shocking things I learned had to do with the salary difference. Early and mid-career teachers in IPS typically earn 20 percent to 30 percent less than teachers with similar experience in the other districts.
I started thinking about my future and my past of paying thousands of dollars toward loans for the education I received to become a teacher. I also asked myself why keeping great teachers isn't one of our district's top priorities.
This isn't just about me or us getting paid more, or about the hundreds of other IPS teachers who are in financial need of a deserved pay increase after six years. It's about the direct impact this issue has on our students and the quality of our schools.
Last year, my school alone lost four high-quality teachers to other districts and jobs due to finances. IPS lost approximately 140 teachers. We started the school year with the 140 positions open; 70 remain unfilled. Shortridge High School has only one certified math teacher.
IPS can and should do better.
IPS has made progress in many areas. In one year, we have raised our report card rating, put effective leaders into our schools, set new district goals and priorities, and created teacher leadership positions district-wide. I am, in fact, one of the teachers filling this new role.
We need to keep the momentum going strong by prioritizing high-quality teachers.
All of this is why I chose to be part of a new teacher-led campaign called Elevate IPS, whose goal is to ensure that students have access to high-quality teachers. The campaign's mission is to make IPS a more desirable place to work by providing teachers with fair and competitive salaries. This will not only enable our district to retain talented teachers, but will also help make IPS a top choice for new talent.
Elevate IPS empowers teachers to move away from complaining in the hallways or having gripe-fests in the teacher's lounge, and instead channels the hope that we have for our district into action.
We chose the name Elevate IPS because it's not just about the pay. It's about keeping great people in our schools. It's about elevating the teaching profession, elevating the quality of instruction happening in our classrooms, elevating student learning, and elevating IPS.
All the positive changes that have been and will continue to be implemented in the coming years cannot be effective in the long run if great teachers are not kept in classrooms.
With the future of more than 30,000 of the city's students in our hands, IPS administration has a duty and a responsibility to prioritize ensuring that great teachers come, that great teachers stay, and that the education we offer our children is of the quality they deserve.•
__________
Mason teaches Spanish at Harshman Magnet Middle School in Indianapolis Public Schools. She is a leader of the Elevate IPS campaign. Send comments on this column to ibjedit@ibj.com.
Please enable JavaScript to view this content.