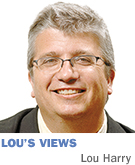 The Indianapolis Chamber Orchestra's new CD "Momentum 21: New Music for a New Century" smartly looks both backward and forward.
The disc came about after Kirk Trevor, ICO music director since 1988, announced his retirement. So, in a sense, it's a celebration of the sound Maestro Trevor helped create. At the same time, it looks ahead, with a focus entirely on 21st-century compositions—including a major work by James Aikman, the recently appointed (and first ever) ICO composer-in-residence.
Aikman's piece, "Triptych: Musical Momentum," actually served as impetus for the project. With "Triptych" scheduled to be performed in a concert in April 2014—and with another newer work, Christopher Theofanidis' "Bassoon Concerto," also on the bill—the ICO decided a live recording was in order. Keeping to the live esthetic, Trevor chose to round out the disc with two other 21st-century pieces the ICO was performing at the Contemporary Music Festival at Indiana State University last October.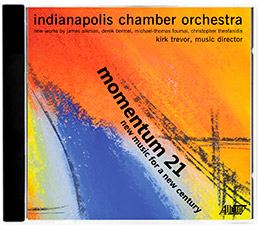 Image courtesy of Indianapolis Chamber Orchestra
Kicking off the disc, Aikman's "Tryptych" proves an effective counter to anyone who automatically equates "new orchestral music" as "hard on the ears." A kinetic first movement—and the banging of a wood plank—give it overtones of cinematic westerns before slowing into a more deliberate second movement leading to a celebratory third.
The transition is pleasantly jarring from Aikman's piece to the solo guitar that starts the next, Derek Bermel's 2011 "Ritornello: Concerto for Electric Guitar and String Orchestra." Although not a follower of King Crimson, I thought of the band when I first listened to the piece and, no surprise, the liner notes by the composer cite King Crimson mainstay Robert Fripp and former member Adrian Belew as influences. If you want to help transition someone from progressive rock into classical, "Ritornello" could be the gateway musical drug. Derek Johnson is the accomplished guest guitarist.
Next, Michael-Thomas Foumai's 2013 "Lady Dark" challenges the listener—at least, this one—by opening seductively, then becoming more frantic and dramatic. The winner of the 2014 Indianapolis Chamber Orchestra Composition Competition, "Lady Dark" was inspired by Shakespeare's sonnets, although this work seems decidedly less subtle.
Christopher Theofanidis' 2002 "Concerto for Bassoon and Chamber Orchestra" closes the disc. The title instrument has a tendency to sound like an outsider trying to fit in and Theofanidis' work takes advantage of that status. In the first movement, there's a desperation to the bassoon—as expertly played by Martin Kuuskmann—that gives way to hints of elegance and signs of ambition. Seemingly lost at the beginning of the third movement and at odds with the rest of the orchestra, it finds resolution in an almost magical transformational acceptance by the close of the disc.•
__________
This column appears weekly. Send information on upcoming arts and entertainment events to lharry@ibj.com.
Please enable JavaScript to view this content.