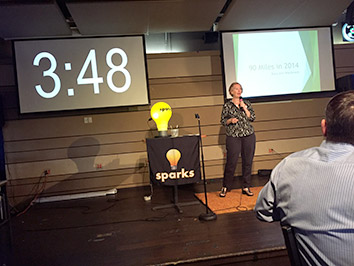 Verge founder Matt Hunckler is one of the region's biggest supporters of startups.
But the 28-year-old won't hesitate to cut off entrepreneurs who get a little long-winded pitching their companies at his monthly networking event. His tool is the infamous "slow clap." And he leads it off whenever Verge speakers approach their five-minute limit.
Time limits are also enforced at Sparks Indy, a monthly TED-type meet-up. The event features two four-minute monologues, a 10-minute keynote speech and a jumbo countdown timer.
"I like that we can come here, connect and socialize, and also experience three different stories that are being shared in a relatively short time period," said 38-year-old Jennifer Seffrin about the May Sparks event.
"So you're getting some bang for your time. Rather than your buck, your time."
Bite-size speeches are the thing at mingling events these days, as organizers aim to add speakers but avoid long, boring addresses. Getting to the point has always been valued in the business world, but some events now have rules around it.

Hunckler
At Catalyze Indy earlier this month, Indianapolis Mayor Greg Ballard was one of two guest speakers at the two-hour, tech-focused shindig. He spent about six minutes giving impromptu remarks.
Speaking about Verge, Hunckler said, "Our community is mostly tech entrepreneurs, so we need to keep things fast-paced. We've been known to have short attention spans."
Chris Reed is the outgoing, often colorfully clad 43-year-old who leads Sparks. He wants his event to ignite inspiration and ideas for people, and his main weapon is the timer.
Whatever the topic, Reed encourages speakers to memorize their closing remarks and use them when they have about 15 seconds left. 
Reed
The audience will start clapping at 0:00, he tells them, whether or not they've finished their PowerPoint slides.
Some entrepreneurs dread the slow clap at Verge, but still appreciate the time limit.
Craig Baldwin of Cincinnati startup Incline said he recited his spiel numerous times before pitching at the April event. 
During practice, he often came in over six minutes. On pitch night, he finished in four minutes and 22 seconds.
"I'm just glad I didn't get slow-clapped off the stage," he said. He noted that limits can enhance a message's value.
Speaking for 10 minutes is, in some ways, tougher than leading a multi-hour training seminar, said two-time Sparks speaker Tim Robbins.
Robbins has a sales-training background, and his May keynote on trust and judgment came in at nine minutes and 49 seconds.
"I could spit out 10 hours of training without batting an eye," he said. "But 10 minutes in here? I've really got to be on my game."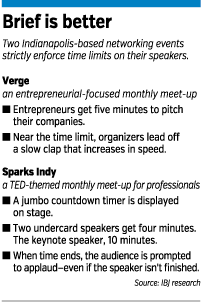 Short speeches mean more opportunities to encounter impactful messages, Robbins said, or "gems." They also mean so-so speeches don't drag on. "Some of the four-minute talks aren't gems," he said.
Quick talks leave people with a variety of content, time for networking and weeknight hours to spare.
"It's not quite 7 p.m. and this thing's already over," investment executive Brad Tribble, 43, said at the May Sparks event.
Both Verge and Sparks regularly draw more than 100 people, and the lead organizers of each are laying the groundwork to expand in other markets. 
"We're expanding to other emerging cities to connect them with our growing community of tech entrepreneurs outside of the Silicon Valley bubble," Hunckler said.
"That's the direction we're going," Reed said, noting that he's eyeing Louisville, and Dayton, Ohio. "We want to have 20 of these across the country."
Not everyone is a fan of short speeches.
After leaving the April Verge event, 27-year-old Jeff Carl said 30 minutes is too long for him, five minutes is too short, and he prefers messages of 10 to 15 minutes.
"If someone's in a rush, they're not doing their best," he said. "It doesn't feel natural."
Wayne Burrell, 35, of Indianapolis, said longer talks are meatier. He was another April Verge attendee and said the pitches there amounted to "hors d'oeuvres" for him. 
"Which I guess is good. I mean, if you've got 45 minutes to network with folks, you can say, 'Hey, I like what you were talking about.'
"So maybe it's a whet-your-appetite type of thing. And if that's the case, then, hey, it's not bad."•
Please enable JavaScript to view this content.