All 11 school districts in Marion County will receive an increase in per-student funding under the state's new budget.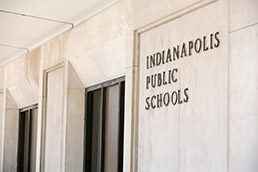 The Legislature gave IPS a 0.4-percent increase over two years. (IBJ file photo)
The largest increases went to the schools with the lowest per-pupil funding, and the smallest increases went to schools with the highest per-student funding, according to Chalkbeat Indiana.

Indianapolis Public Schools will see a rise of just 0.4 percent over the next two school years. But IPS will remain the highest-funded district in the county, at $7,708 per student.

The second-smallest increase will go to Wayne Township schools, which had the second-highest funding. Wayne will receive $7,183 per student.

That will actually slip behind Warren Township schools, which will receive a 2.5-percent increase, to $7,278 per pupil.

The largest hike, 4.2 percent, will go to Franklin Township. But that district will remain the lowest-funded, at $6,401.

The second-largest increase will go to Perry Township, up 3.7 percent, to $6,756.

That will move Perry from second-lowest to third-lowest in the county, one spot ahead of Pike Township. Pike will receive a 2.7-percent funding bump, to $6,733 per student.