Scott Stulen
Scott Stulen admits much of what he's doing as the Indianapolis Museum of Art's first curator of audience experiences and performance isn't what people expect from a cultural museum.
"Museums have become very, very systematized," said the man who produced the Internet Cat Video Festival at Minneapolis' Walker Art Center. "Things are so thought out, so planned, so tested, that you know exactly what audience members are going to do or not do. There's no room for deviation."
"But when you're out of control—when you don't control the narrative anymore—that's what's really exciting," he said. "That's where true innovation comes from."
He credits his background as an artist himself with helping guide his ideas. Teachers, collaborators and other artists also had impact. He quotes artist Jeremy Deller, who said, "I went from being a maker to someone that makes things happen."
At the IMA, his creative approach has accessorized major exhibits with eyebrow-raising curiosities—such as bringing in someone to teach an auto break-in workshop as part of the current "Dream Cars" exhibition. He's forged relationships with local arts organizations, including making the artist collective Know No Stranger the IMA's first performing-artists-in-residence. And his stamp has gone onto established programs, such as the Summer Nights film series, where pre-show activities include an awkward vacation slide show for "National Lampoon's Vacation" and inflatable pools for lounging during "Jaws."
None of this is a rejection, he insists to art purists. It's an addition.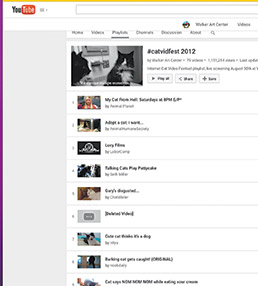 Stulen is known in part as creator of the Internet Cat Video Festival, but his efforts at IMA could soon earn him more fame. (YouTube screen capture)
"We're competing for time and money with other entertainment options," he said. "They have to get something here they can't get from their couch on Netflix."
He gives the IMA credit for giving him the freedom to experiment. And to fail.
"Failure is such a big part of creativity," Stulen noted. "Most R&D labs are built on that. But it's not just failing—it's having learning as a creative outcome."
At the IMA, Stulen has the benefit of volume: A huge quantity of programs fill the schedule, lowering the risk on individual programs. And he's learned to make adjustments on the fly.
During a program pairing music with food, for instance, the gimmick was that listeners/diners couldn't talk.
"We really thought people weren't going to go for it," he said. But seeing it going well, Stulen opted not to lift the verbiage ban at the specified time.
"It's a small example," he said, "But we saw that this was working and decided to change the script midstream and go with it."
During events, he keeps an eye on social media.
"I can actually watch Twitter and see what the problems are. We can fix things this time instead of next time."
Stulen said the IMA is already starting to see results both financially and in loyalty.
"Programs are selling out and are one of the noted drivers for people purchasing memberships."
Check out the rest of IBJ's 2015 Innovation Issue.
Please enable JavaScript to view this content.