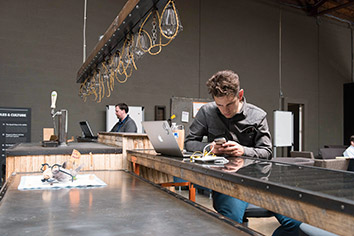 Every week, I do the coffee-shop shuffle.
As the roving IBJ reporter on duty North of 96th, I roam through Hamilton and Boone counties scouting anywhere with free Wi-Fi, a semi-quiet atmosphere and conveniently located outlets to charge my laptop.
But there has to be a better way. Right?
The popular co-working spaces spreading throughout Indianapolis are trying to provide an answer—shrinking the number of individuals circling the cafe circuit. These "offices" fill a void for professionals without a dedicated office or for small businesses that can't afford to lease space. You get the best of both worlds—cafe vibe, but you don't have to buy coffee; office amenities, but you're not confined to a cubicle; and the quietness of a library, but you can take phone calls.
Plus, in some cases, there's beer on tap.
I recently spent a few hours at the newest, oldest and biggest co-working spaces to see what all the hype is about.
I started one day at zWorks in downtown Zionsville. It's the only co-working office in Boone County, and it officially opened April 30—a week before my visit.
That afternoon, I cozied in at Launch Fishers and worked with two companies that operate from the 16,000-square-foot basement of the Hamilton East Public Library. It's believed to be the biggest co-working facility in the state in terms of either footprint or membership.
The following week, I joined the crowd in Broad Ripple at The Speak Easy. The not-for-profit collaborative opened in February 2012, making it the first area co-working space for budding entrepreneurs.
May 7
zWorks, 11:40 a.m.
The fluorescent overhead lights flick off in the open room where fire trucks once parked.
Five people in the 100-year-old building don't miss a beat. The whistling air-conditioner ceases, which makes the typing, mouse-clicking and shoes squeaking more noticeable.
Founder Dan Moyers speed-walks into the suite with colorful metal letters that spell "zWorks" nailed to the back white wall. "Welcome to zWorks. You don't know what the hell is going to happen here."
Moyers doesn't know the cause of the power outage, but it doesn't bother anyone. The back-up battery pack keeps the Wi-Fi signal going strong.
Jeremy Zucker, principal of Zucker Business Communications, works on a laptop on one of the two four-person tables in the room wedged between the kitchen and bar area and dedicated "startup" room.
The battery pack keeping the Internet alive beeps about every five seconds and the keyboard pecking doesn't stop.
Roust co-founder Mark LaFay's cell phone chirps for a Twitter notification. He glances at it, then diverts his attention back to his laptop screen. Roust is a social media network for individuals to discuss politics.
Zucker tells LaFay he likes the video on Roust's website. They briefly chat about where they might have met before, perhaps at a brewery.
After 10 minutes of working in the mostly dark room that's slowly warming from the outside heat, a woman packs her laptop, wireless mouse and papers.
"All right, everyone; have a good day," she says as she wheels the bag toward the front door that faces Cedar Street.
The other co-workers murmur, "You, too," without shifting focus.
Launch Fishers, 2:02 p.m.
San Pathak, Darye Henry and Ollie Ward surround a T-shaped desk formation with five computer screens and a pile of tablets.
"I might have a few words I'll change," Henry says.
"You should," Ward replies.
The trio needs new biographies for the website of their coding company, Reborn Code, because they recently rebranded.
A white board says, "Welcome to Reborn Code, San" in black, purple and red letters. It's Pathak's first week, but he's known Ward and Henry for years.
The rebrand came with a new three-pronged approach to identifying customers—"Rebound. Refresh. Realize."
"Now we gotta design that, and put it on the site," Ward says.
Henry's team is tucked inside the dedicated work-space room where it's quiet enough to hear an iPhone "ding." In the open space that's filled with couches, tables, desks and two desk treadmills, there's a buzz of activity as people chat with other members or clients, sip coffee and make phone calls.
Andrew Curtis sits at his regular three-table arrangement with four employees. There's no assigned seating, but everyone has their own seat.
His creative marketing and strategy company Fuel VM started 12 years ago and has never had a traditional office.
"Can I bug you for like 30 seconds, please?" Curtis asks Geoff Wood, who works on application development. "Where would I find the hex for this?"
"Since you said please," Wood responds.
Curtis scrolls through several pages of coding as they both scan the screen for the numbers that match a specific color.
"You're killing me, Smalls," Wood teases.
"How many people does it take?" fellow Fuel VM employee Thomas Robert chimes in.
After a few minutes of trial-and-error, Wood returns to his spot, then runs into his own roadblock.
"Oh, we need to reboot," Curtis jokes.
May 12
The Speak Easy, 11:16 a.m.
Behind two metal, freezer-like doors, a handful of individuals are spread out on cushioned chairs, at wood tables in private meeting rooms. The only noise is the humming of the air-conditioning.
It's not crowded, but Executive Director Denver Hutt assumes that's because the Indianapolis 500 festivities have begun, so regulars are busy at the track.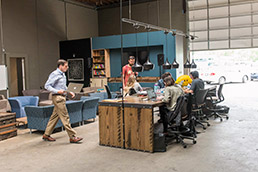 Members of The Speak Easy work at open desk space provided at the Broad Ripple co-working facility. (IBJ photo/ Eric Learned)
The six spots at the long table are nearly filled as young professionals stare silently at laptop screens. Overhead sunlight brightens the warehouse-like room.
A man and a woman face each other nearby as they type on laptops on blue dotted cushioned chairs that can be arranged into couches.
Hutt is bouncing ideas off whoever walks by the couch she's settled into.
"What do you think of 'rock, paper, fork?' We're trying to rename the project."
She keeps brainstorming.
"We could do 'lunch box,' but that still sounds … I don't know …" Her voice trails off and her attention returns to the MacBook nestled on her lap.
Clank-clank. A man walks out the double doors, leaving his travel coffee mug, charger, headphones, notepad and wireless mouse. Unlike at a cafe, members are comfortable walking away without packing up.
A few minutes later, Hutt has a new person to bounce the idea off of.
"What do you think of 'rock, paper, fork?'" she repeats.
Around noon, Hutt packs up. She has a lunch meeting to get to—tweaking the project will continue later.•
Please enable JavaScript to view this content.