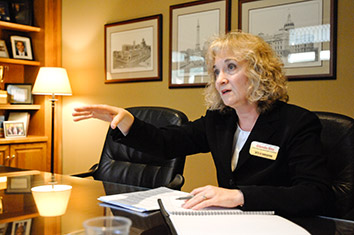 Indiana Democrats could face a tough campaign to choose their 2016 nominee for governor as they sense an opening to oust Republican Gov. Mike Pence from office.
State schools Superintendent Glenda Ritz is expected this week to become the third Democrat to announce for governor, joining former Indiana House Speaker John Gregg and state Sen. Karen Tallian of Portage.
Ritz declined to discuss her political plans Monday other than to say she would have an announcement on Thursday.
"You're just going to have to wait like everybody else," Ritz told The Associated Press as she left her Statehouse office.
Her campaign's Facebook page lists events in Indianapolis, Terre Haute and Evansville on Thursday and in Fort Wayne, South Bend and Hammond on Friday
Ritz has clashed repeatedly with Pence, his appointees who dominate the State Board of Education and the Republican-controlled Legislature since she upset GOP incumbent Tony Bennett in 2012 to become the lone Democrat among elected state officeholders. Ritz had talked of seeking a second term as schools superintendent before saying in late April that she was considering a run for governor.
Former state Democratic chairman Dan Parker worked to head off any 2012 primary challengers to Gregg, who lost that year's general election to Pence, but said Monday he believed a contested primary could energize Democrats by drawing more attention to the candidates and their positions.
Pence is set to formally announce his bid for a second gubernatorial term on June 18. Pence will enter the campaign with huge advantages in fundraising and organization over possible opponents, but his approval ratings dropped after the national backlash over the religious objections law he signed this spring which critics viewed as anti-gay and businesses spoke out against. A poll in April after the controversy found Pence's approval rating at j 45 percent, according to Republican Christine Matthews of Bellwether Research. While her firm had not polled earlier in the year, that number was a sharp drop from what others opinion surveys showed before the backlash.
Democrats also believe they'll be helped by Pence's support for legislation that shifted authority over some education policy away from Ritz and the repeal of the state law for setting wages on public construction projects.
Parker said he doesn't expect state Democrats will be divided even if they have a contested primary next May.
"I assume Mike Pence will be the Republican nominee—and that will be a uniting factor," he said.
Surviving a hotly contested primary hasn't necessarily foreshadowed the outcome in recent Indiana campaigns.
Democrat Jill Long Thompson won a divisive 2008 primary for governor, then lost badly to Republican Gov. Mitch Daniels in the general election. But in 2010, Republican Dan Coats won a five-candidate primary with 40 percent of the vote before easily winning election to an open U.S. Senate seat that fall.
Democratic candidates and leaders could end up settling on a consensus ticket before the primary that's nearly 11 months away in order to maximize their chances against Pence, said Pete Rimsans, executive director of the Indiana State Building and Construction Trades Council union organization that's already endorsed Gregg in the 2016 governor's race.
"When you have a governor that has an approval rating that's low … everybody looks in the mirror and sees a governor," Rimsans said. "That's not something we need right now, we need people to rally behind one candidate and form a solid ticket."
Indiana House Democratic Leader Scott Pelath cited the need to avoid a "primary free-for-all" when he said last week that he wouldn't join the governor's race.
Former Fort Wayne Mayor Paul Helmke, who narrowly won a three-way Republican primary in his unsuccessful 1998 U.S. Senate campaign, said even an expensive Democratic nomination fight could give the winner a boost such as Barack Obama gained from his tight 2008 primary against Hillary Clinton on his way to becoming the first Democratic presidential candidate to win the state in 44 years.
"Against Pence there are a lot of issues Democrats are going to bring up, and I think the fact that there is a contest means a lot of people are going be focusing on it," Helmke said. "Whoever comes out on top, I think, is going to have momentum going into the fall."
 
Please enable JavaScript to view this content.