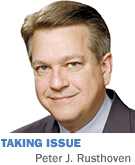 Most Republicans didn't need convincing that our 2016 presidential nominee shouldn't be Sen. Rand Paul. But if doubt remained, Paul's performance during the recent debate on Patriot Act extension eliminated it.
Whatever one's views on the debate's underlying merits, Paul's contributions spoke volumes about the judgment and character of the Kentucky ophthalmologist-turned-politician.
Start with his self-image as the brave warrior amid a crowd of cowards doing the president's bidding:
"These people who call loudest to criticize me are great proponents of President Obama's foreign policy. I'm really the one standing up to President Obama, and these people are essentially the lapdogs for President Obama, and I think they're sensitive about that."
Really? Paul's leading foe on Patriot Act extension, fellow Kentuckian Mitch McConnell, said the "hallmark of the Obama foreign policy" was "ending the tools developed by the previous administration to fight the war on terror." He also decried "the president's campaign to destroy the tools used to prevent another terrorist attack."
Doesn't sound like an Obama lapdog. Maybe Paul should avoid veterinary science and stick to ophthalmology.
Paul also ventured into psychology, laying bare the hidden motives of those who oppose him: "Some of them, I think, secretly want there to be an attack on the United States so they can blame it on me."
Right, Rand. Again, it's all about you. Those of us who disagree hope our country suffers another terrorist attack, because loss of American lives is a small price to pay for our secret wish to be able to blame it all on Rand Paul.
Paul attempted to downplay this comment as "hyperbole." Better words are "nonsense" and "narcissism."
Then there's Rand's analysis on who's to blame for ISIS: "ISIS exists and grew stronger because of the hawks in our party who gave arms indiscriminately. These hawks also wanted to bomb Assad, which would have made ISIS' job even easier. They've created these people."
Paul tried to back away from this as well: "Well, I think ultimately I could have maybe stated it a little bit better. What I would say is that the ultimate people who are responsible for terrorism are obviously the terrorists. So ISIS is responsible for the mayhem, the murders, the brutality, the beheadings."
Hmm. Good clarification. Perhaps that is just "a little bit better" than blaming Republicans who don't share your isolationist outlook for supposedly creating ISIS and making it stronger.
The large field of 2016 Republican presidential contenders includes a number of qualified candidates, who are capable of winning the election and of serving effectively in the White House. Then there are the others, of whom neither statement is true.
Sen. Ted Cruz, who forced a government shutdown in a futile stunt about defunding Obamacare—and was willing to let funding lapse for the Department of Homeland Security to joust at Obama's executive order on immigration law.
Ben Carson, this year's Herman Cain—someone who can give a rousing speech, but with no discernible qualifications for actually governing. Come to think of it, that was also a pretty good description of Barack Obama in 2008. Turned out to be correct.
Donald Trump. 'Nuff said. And Rand Paul, who apparently never thinks he's said enough.
But you keep talking, Rand. It can only speed the process of winnowing the GOP field down to the serious candidates.•
__________
Rusthoven, an Indianapolis attorney and graduate of Harvard College and Harvard Law School, was associate counsel to President Reagan. Send comments on this column to ibjedit@ibj.com.
 
Please enable JavaScript to view this content.