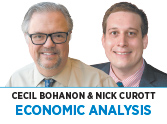 Economists make predictions. That is part of what we do. Bohanon and Curott are no exception, and so far for 2021, we are 1-for-1 in predicting that the year-to-year inflation rate would exceed 4%. Hooray for us!
But this is not one we are glad to see come true. Before we get too cocky, we'll be the first to admit that some of our predictions haven't quite worked out. We don't feel too bad about it, though, because we are in pretty good company.
One of our heroes, Milton Friedman, predicted in 1974 that the OPEC international oil cartel would soon fall apart and the price of oil would fall to under $10 a barrel. In marked contradiction to Uncle Milty's prediction, the price of oil proceeded to rise more or less continually until 1980, when it peaked at $40 a barrel. By March 1986, it had dropped to under $10 a barrel, and Friedman wrote in his Newsweek column a tongue-in-cheek "I told you so" op-ed titled, "Right at Last: An Expert's Dream!" where he claimed to have been awarded the booby prize by the Association for the Promotion of Humor in International Affairs.
A friend of ours recently shared a prediction made in 2007 that went completely awry. The commentator (who shall remain unnamed) noted that social media networks had all the makings of a natural monopoly—an industry like the telephone company of old—where there ends up being only one provider in the market. While the writer noted at the time numerous contenders were jockeying for the crown, the evidence was overwhelmingly clear for a bright and "rosy future" for MySpace.
Interestingly, Friedman discussed the problems of natural monopoly in his classic 1962 work, "Capitalism and Freedom." He contended there were only three options: a private monopoly, a public monopoly or a regulated monopoly. He opined that, "All three are bad, so we must choose among evils."
Friedman did not foresee how much local and long-distance phone communication would evolve over the next 60 years. Suffice it to say we are no longer a captive to a monolithic Ma Bell.
Nor could our unnamed commentator foresee all the social media alternatives that have sprung up since the noughts, such as Snapchat, Tik-Tok, Reddit and ones we don't even claim to understand. The unforeseen alternative springing from human imagination is a better friend of consumers than any government intervention!•
__________
Bohanon and Curott are professors of economics at Ball State University. Send comments to ibjedit@ibj.com.
Please enable JavaScript to view this content.