A fast-growing city like Fishers can add thousands of new residents in just a few years.

But several state funding allocations are based on population numbers the U.S. Census Bureau collects only once a decade, which could grossly underestimate the city's density.

Municipalities can miss out on hundreds of thousands of dollars every year in higher tax distributions from the motor vehicle highway fund, cigarette and tobacco products, alcoholic beverages, and riverboat wagering.

"By the time you get to the seventh or eighth year in the census, you might have added 15,000 to 20,000 people," Fishers Mayor Scott Fadness said.

Fadness
That's why towns like Fishers, Carmel, Westfield and Whitestown are gearing up to invest in special certified census counts—either partial ones that target specified growth areas or full population counts. The state would use the results to recalculate funding allocations.

The governing body seeking the special census is required to fund it, and cost estimates in northern suburban communities have ranged from as low as $80,000 for Whitestown to as high as $1.2 million for Fishers. The estimates are provided by the Census Bureau, which also oversees the counts.

The trick is to find the sweet spot when population has increased enough that the additional state revenue would cover the census cost, with extra left over to apply to municipal needs.

"Timing is real important," Carmel Mayor Jim Brainard said. "You want to get as much growth as you can."

Brainard
For several area suburbs, the right time seems to be now. Fishers and Carmel are each planning to pay for a partial census, while Westfield and Whitestown each intend to commission a full count.

"We're taking control by doing this and making sure that we're getting dollars that would normally get distributed to us," said John Rogers, director of enterprise development for Westfield.

Rogers
Noblesville leaders considered a special census, but decided it wouldn't be cost-effective based on the Census Bureau's $1 million cost estimate. Avon considered one before the 2010 census, but didn't follow through. Town Manager Tom Klein said officials will look into the possibility again before 2020.

Careful calculations

The northern suburbs know growth is happening—and quickly—but approximating how much is tricky. Officials consider building permits, average occupancy rates and previous census counts.

"The issue you always have here in Indiana is the revenue," Fishers City Council member Pete Peterson said. "And the revenue is always based on the population."

The Census Bureau estimates Westfield has grown nearly 18 percent since the 2010 census. Westfield officials think that figure might be even higher; the City Council has approved spending $625,000 for a full special census. Rogers estimated the city will receive $330,000 annually in new revenue if the population is close to 38,000, as city officials predict.

Whitestown, which could double in size between the 2010 and 2020 census, is planning to pay $80,000 for a special census. It estimates new revenue of $190,000 a year, assuming the population is about 5,600.

The 2014 estimate from the Census Bureau pegged the town as having 5,258 residents—83-percent growth since 2010.

In Fishers, Fadness said the city is waiting for a cost estimate for a partial census. The full-census estimate was $1.2 million, and Fadness said city officials think the lower-cost partial option will still be effective in bringing in more state dollars.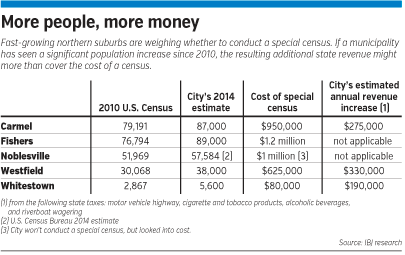 Brainard said Carmel is looking at funding a partial census in 2016 as opposed to the full census it has paid for in the past because growth has stopped in certain areas of the city.

"We're not growing as fast as we were in the past," he said. Still, the city estimates it could earn an additional $275,000 annually if population figures were updated.

Despite several of the interested municipalities' bordering one another or being within the same county, local officials said it doesn't save money to conduct the special census together.

Rogers said Westfield officials talked to Fishers about combining the count and spoke with the Census Bureau about the plan.

"They suggested we do not partner because it actually complicates the census," he said.

Risky business

So what's the risk for cities?

"You could end up spending more money than you receive," Brainard said.

The gamble paid off for Carmel in the past. After the last special census in 2007 that cost $900,000, the investment resulted in a $2.4 million net benefit. The 2000 census had Carmel's population at 50,948 and the special census brought it up to 68,677—a 34.8-percent increase.

For Fadness, the chance of not breaking even on the census is all the more reason to choose the partial option. With less money invested, there's less risk.

"If we can get the same result by paying half as much, why wouldn't you?" he said.

Some entities are more confident than others. Rogers said even if his calculations for Westfield are off by thousands of residents, the city will still come out ahead.

The other unknown is in the hands of the Legislature, which sets the per capita rates used to distribute funding. If those rates were to change dramatically, the estimated new revenue would do so as well.

"We're just along for the ride sometimes," Rogers said.•