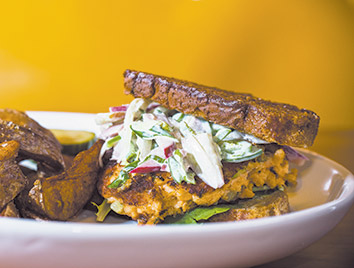 Do an Internet search for "Nourish" and "Indianapolis" and you might well be pointed to Nourish Cafe, the eatery at the Indianapolis Museum of Art. But there's now an unrelated Nourish in town (931 S. East St., 737-1699) and the eager-to-please, ambitious-yet-cozy eatery is worth seeking out.
Housed across the street from the Eli Lilly and Co. campus in what used to be a laundromat, Nourish also has the benefit of a parking lot, something that shouldn't be underestimated when trying to lure diners to the new. What lures folks back for a second taste, though, is the quality of the food and the care evident in the service.
The relatively spare menu offers choices constructed (when possible) from "seasonal, locally produced, family farmed and organic products." Options can change based on availability of ingredients and the whim of the kitchen.
Our visit started with Freekeh Lettuce Wrap ($8), a quartet that made up in flavor what it lacked in attractiveness (the wheat-based freekeh isn't quite ready for its close-up). Including a smart and unexpected mix of coconut and pickled veggies, it was deliciously dampened but not doused with a Thai vinaigrette. The final-vowel-heavy Zucchini Potato Poblano Tortilla ($6) worked as well—and also contained an ingredient that might send you to your smartphone to Google. I'll save you the trek: Idiazabal is a cheese made from sheep's milk. And if it isn't also the name of a character in one of the "Wizard of Oz" books, it should be.
A vegan guest had some questions about the Open-Face Portobello Stack ($9)—and was a little concerned when the waitress asked if she wanted the house chive cottage cheese with it. But after a kitchen-suggested substitution of farro rice for the scheduled focaccia, she was quite pleased. The eggplant, mushroom cap and zucchini each had a delicious grill flavor, just enough salt, and were sparked with housemade walnut butter.
The Roasted Chicken Wrap ($9) also excelled, thanks to the inclusion of strawberry and a kicky fennel field-green slaw. Slow-rsoasted Sea Trout Cake ($10) featured a malt kewpie (think creamier mayo) and crunchy rhubarb jalapeño slaw that I thought would fight with the fish but, instead, enhanced it.
The House Ground Burger ($11) also signaled an understanding of how to accent without overwhelming. Here, stout caramelized onion aioli and house pickles made a burger that would be solid on its own into something memorable (with only the sorghum bacon's flavor being lost in the mix).
Praise from all parties for the two dessert options: Chocolate-Cremeux and a Broken Lemon-Mezcal Lemon Curd (each $6). Cremeaux means creamy and that's certainly the case in this mousse-ish mix featuring local honey, cashew butter brittle and smoked salt. The appropriately tart curd, with a drizzle of strawberry coulis and a fight-over-it almond shortbread, sparked immediate plans for a return visit.•
Please enable JavaScript to view this content.