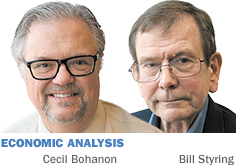 Hardly a day passes without a story in the financial press about the demise of OPEC. The oil cartel just hasn't been the same since U.S. shale frackers upset the oil apple cart. Maybe the better question is, why should we be surprised when another cartel bites the dust?
Cartels are an arrangement among producers to rig the market for their benefit and at the expense of consumers. Adam Smith, the father of economics, as usual had something prescient to say about cartels. Smith didn't have a high opinion of businessmen: "People of the same trade seldom meet together, even for merriment and diversion, but the conversation ends in a conspiracy against the public, or in some contrivance to raise prices."
In other words, it is quite normal for people to love competition … for everyone else. For ourselves, life is more pleasant and profitable if we can somehow contrive to wave away or co-opt our pesky competitors.
So, one might think Smith would have urged King George to set up an Antitrust Division under the Chancellor of the Exchequer to protect consumers from all those budding cartelistas. Not at all. Smith acknowledged that producers try to form cartels, but they seldom persist for long unless government props them up.
Proper public policy toward cartels is to leave them alone. Sooner or later—and usually sooner—some new process or technology, or the built-in incentives for cartel members to cheat on one another, will blow up the cartel. Truly long-lasting cartels are ones formed by government action.
Think about the big, lasting cartels in the United States. Large parts of the farm program certainly qualify. The secretary of agriculture could equally be titled director of crop cartels, what with price supports and agricultural "marketing orders." Numerous occupational licensing schemes serve a similar function.
We don't often think of the public school system as a cartel, but it is. "Consumers" ages 6-17 are required to purchase a product and are told which government outlet is to provide it for "free." Go anywhere else and you pay out of pocket. School choice—vouchers, charters—is merely an attempt to challenge the cartel by dosing it with competition.
OPEC had market power as long as a few state-owned oil companies could plot together. A swarm of smallish U.S. shale frackers crashed the party. Adam Smith must be smiling.•
__________
Bohannon is a professor of economics at Ball State University. Styring is an economist and independent researcher. Both also blog at INforefront.com. Send comments to ibjedit@ibj.com.
Please enable JavaScript to view this content.