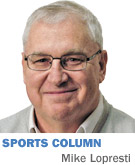 It's been a wet spring, all right. Notice the ends of so many long sport droughts?

We've seen the first Triple Crown winner since the Jimmy Carter administration, by a horse with an incorrectly spelled last name. The Cleveland LeBrons, forced by injury to depend on guys most of the nation couldn't pick out in a police lineup, might end their city's 51-year title-less misery. Either that, or the Golden State Warriors will get their first NBA championship in 40 years. The Houston Astros are in first place in the American League West. In the past six seasons, they finished 206 games under .500.

So while the gods of sport are in such a good mood, perhaps they might care to address a few other notable dry spells, with Indiana connections:

• Purdue hasn't won an NCAA Tournament game at the Sweet 16 level since 2000, so long ago that nobody even tweeted about it back then. Indiana not since 2002 and the inexplicably forgotten—when's the last time you heard them mentioned or lauded?— national runners-up of Mike Davis.

By the way, 42 other schools have won a Sweet 16 game since 2002, including Butler.

Chance of rain: Seldom has a day gone by this off-season without tidings of great joy from one camp or the other, as far as newly landed recruits or stalwarts deciding to stay. Surely, one of them can break through next March.

• Meanwhile, it has been 35 years since Purdue last saw the inside of a Final Four.

Chance of rain: That's a stretch, especially given it's happened only twice in all recorded history. Paging Rick Mount.

• The Pacers advanced to their one and so-far only NBA Finals 15 years ago. Unfortunately, Kobe Bryant and Shaquille O'Neal were there to greet them. The last title, ABA-style, was 42 seasons ago.

Chance of rain: None, if people keep getting hurt. Still, look at next-state neighbor Cleveland, losing two stars but authoring a fairy tale with an Australian named Dellavedova. Oh, yeah—and LeBron James. The Tuesday night the Cavs won Game 3 of the Finals, it had been 45 days since the Pacers season ended. Fill a few voids, and see what happens with this Indiana bunch. But it's not the Kentucky Colonels they have to worry about anymore.

• Indiana hasn't played in a top-tier bowl game in 47 seasons. The Hoosiers haven't won any bowl game—be it named after a car company, restaurant or auto-parts store— since 1991.

Chance of rain: Best not wait for Pasadena or Miami. You'd need NASA to measure how many light years away that is for Indiana. But since bowl games grow like dandelions, it's perfectly reasonable to envision postseason victory. Of course, first, you have to get invited to one. Rule of thumb: The longer the name of the bowl, the easier it is to win.

• Notre Dame's last win in a blue-chip bowl was 22 years ago. The Irish have produced seven Heisman winners, but none in 28 years.

Chance of rain: Notre Dame returns 18 starters from a team that beat LSU in a bowl game, so maybe this is the season to make noise in January. Nobody is on the Heisman pre-season short list, though. That's reserved for all the Ohio State quarterbacks.

n The last college player from Indiana to be taken No. 1 in the NFL draft was Notre Dame defensive tackle Walt Patulski—43 years ago.

Chance of rain: We draft 'em and cheer 'em and buy their uniforms—hail, Peyton; hail, Andrew—we don't produce 'em.

• The Colts have lost six consecutive games to New England. They have coughed up 251 points in that dirty half-dozen, leaving their supporters feeling flatter than Patriots footballs.

Chance of rain: OK, it's not that long ago, 2009, but doesn't it feel like the last Indianapolis victory over the Evil Empire happened back in the Ming dynasty? The Colts get New England at home this season. We'll see Oct. 18 how much all that new weaponry helps.

• The Indianapolis Indians haven't won a postseason series in 15 years.

Chance of rain: Depends on how often the phone rings from the Pirates, calling someone up. But the beer will still be cold, the hot dogs hot, and the promotions plentiful at Victory Field. That's what minor league baseball is all about.

• American drivers haven't put together back-to-back Indianapolis 500 victories since Rick Mears and Al Unser Jr. 23 years ago.

Chance of rain: Given Juan Pablo Montoya's win in May, this is pretty much out of the question until at least 2017.

• It has been 14 years since a team from outside the Indianapolis area—Penn— won the big-school state football championship.

Chance of rain: Minimal, since someone would have to get past Carmel, and Ben Davis, and Warren Central, and Hamilton Southeastern, and Fishers and ….

• We could mention the mother of all droughts for the Cubs fans in the audience, but why bother? It hasn't rained in Wrigley since 1908.•

__________

Lopresti is a lifelong resident of Richmond and a graduate of Ball State University. He was a columnist for USA Today and Gannett newspapers for 31 years; he covered 34 Final Fours, 30 Super Bowls, 32 World Series and 16 Olympics. His column appears weekly. He can be reached at mlopresti@ibj.com.