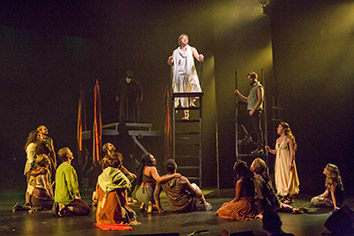 It's been a long time since I've seen a production of "Jesus Christ Superstar" that didn't make me cringe in some way. Don't get me wrong. I enjoy the music and hold onto my belief that Judas' "Heaven on Their Minds" is one of musical theater's all-time great, character-establishing opening numbers.
But something about the show seems to invite excess. In past productions, I've seen blatant anti-Semitism with cash-wielding Hasidic Jews, meat carcasses sharing the temple with the moneylenders, and, in the notorious tour that played Clowes Hall, heavy-metal singer Sebastian Bach creating an egocentric messiah whose only miracle seemed to be access to a biblical blow dryer.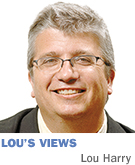 Now that I've seen the Bobdirex production of "Jesus Christ Superstar" (through June 21 at Marian University Theatre), I realize the one thing those other productions were missing was humility.
I'm not suggesting that "Superstar" demands subtlety. Andrew Lloyd Webber's over-the-top score and Tim Rice's "is he serious?" lyrics can easily arch the eyebrows of those who didn't grow up with the songs. But this local production is grounded in a positive way. A simple, functioning set, a bold lighting plan and solid work from the under-stage band contribute greatly. But the essence is in the performances.
The default setting for a "Superstar" Jesus seems to be anger. But Patrick Clements makes him more than a petulant fatalist—he genuinely seems to care about his flock and agonize over the prospect of letting them down. Ty Stover strikes an effective, conflicted dramatic chord in his rendition of "Pilate's Dream." And Joe Doyel brings the intensity of a true believer to Judas, clearly defining him as the sidekick baffled by how his loyalty doesn't seem to elevate him higher than Mary Magdalene in Jesus' eyes.
As for Mary M., Julia Perillo, a finalist in last year's Great American Songbook Vocal Competition, brings a terrific voice to the part. She's got some newcomer acting challenges to overcome, but she beautifully demonstrates not just her feelings for Jesus—that's rendered clearly in the well-known "I Don't Know How to Love Him"—but also for Judas. And her grace toward him makes Judas' frustration with himself even more dramatic.
The talented core and a strong cast of supporting players can't solve all the issues in the show. At no point in the development of "Superstar" did Webber and Rice seem to grasp that there's a structural difference between an album (the original form of the piece) and a full musical theater production. This is particularly evident in the second act, when the show becomes more pageant than drama.
A strong "Superstar," I've now learned, can overcome that by finding a comfortable space between concert and traditional musical theater. Bob Harbin's production does just that. Hallelujah!•
__________
This column appears weekly. Send information on upcoming arts and entertainment events to lharry@ibj.com.
Please enable JavaScript to view this content.