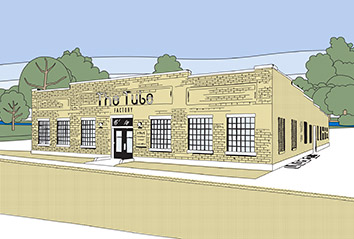 The arts-focused Big Car Collaborative, birthed in Fountain Square in 2004 and most recently headquartered at Lafayette Square Mall, has found a permanent place to park on Indianapolis' south side.
The enterprising group known for creative programming isn't settling for just a new building for its programs. It's also crafting a separate multipurpose gallery and rehabbing at least five homes to house artists near Garfield Park, at a total cost of $1.5 million.
The goal: neighborhood transformation in an area where empty storefronts dominate, more than 40 percent of household incomes are less than $25,000, and 22 percent of adults over 25 don't have high school diplomas.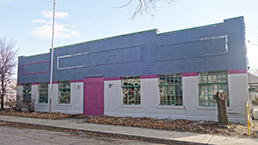 The Tube Factory, pre-renovation (Photo courtesy of Big Car)
The group has raised $600,000 so far toward the multi-part project anchored by The Tube Factory, a 12,000-square-foot space at 1125 Cruft St., just east of Shelby Street. The vacated space was built in 1908 and was most recently owned by Tube Processing Corp., hence the name. The Tube Factory is slated to open in the fall and will include exhibition spaces, workshops and meeting space.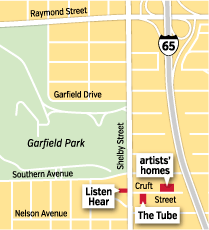 Beyond the walls of its new digs, the group also has taken over a former appliance repair shop on the Shelby Street commercial corridor that it will convert into Listen Hear, a building focused on "sound art"—including a low-powered radio station, performance spaces and an artist-curated record store.
Teaming with the Indianapolis Housing Partnership and Riley Area Development Corp., Big Car also is refurbishing vacant and neglected homes along Cruft Street as affordable living space for artists. (The group is starting with five homes, but has plenty of options for adding more in an area where 20 percent of homes are vacant.)
And in conjunction with the Garfield Park Neighbors Association, Big Car is pushing to make changes to the area streetscape to allow for more parking along Shelby Street. Looking further ahead, Big Car also has its eye on a nearby building along Bean Creek for additional art spaces and studios.
The Tube Factory facility will include wood, metal and silk-screen shops—but the group won't over-plan the space ahead of time, a lesson learned from time spent at Lafayette Square.

Walker
"We're not going to build up lots of stuff that limits the possibilities of the space," said Jim Walker, executive director of Big Car. "We want to be set up to respond to the neighborhood." Office space for staff will be incorporated into the building's entrance area.
The search for a new location began when Big Car was informed it needed to move out of the group's rented home, the Service Center for Culture and Community in the parking lot of Lafayette Square Mall. The deal there was that the group could stay in the former tire dealership until someone came along willing to rent the place for full price—something Big Car didn't expect to happen. But someone did.
"We had two months to find a solution," said Walker, and that meant moving to temporary spaces on the west side and moving shop equipment into storage.
Cheap-to-free spaces aren't easy to come by, especially for an organization requiring expansive exhibition and workshop areas.
"You don't have people coming out of the woodwork trying to give you free buildings," Walker said.
But that's practically what happened when Walker and cohorts were exploring the Garfield Park neighborhood. A maintenance man spotted them looking around and connected them with Tube Processing Corp. CFO Steven Dreyer.
"Turns out, they are arts supporters and were willing to work with us," said Walker, who appreciatively noted the "generous discount" that brought the sale price down to $40,000.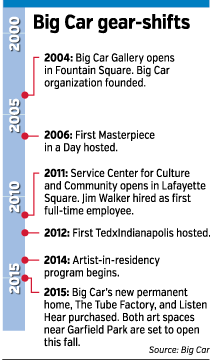 "It's hard to believe it worked out so well," added Walker who, like most of his team of eight full-time staff members, lives within walking/biking distance of The Tube. Big Car will also be working with nearby University of Indianapolis on projects, including relocating TEDxIndianapolis to UIndy in October.
Funding for the purchase and renovation includes a $460,000 community development block grant from the city using HUD funds. The city also took care of environmental testing. Lilly Endowment kicked in $50,000 to assist in renovations. The Indianapolis Neighborhood Housing Partnership invested $75,000 on the housing initiative. A $25,000 façade grant was contributed by Local Initiatives Support Corp., while Blackline Studio, whose co-owner Craig McCormick sits on Big Car's board, is donating time for architectural development.
"For us, it represents an opportunity to do a community-building home-ownership model with artists that's sustainable and affordable," said Eric Strickland, executive director of Riley Area Development Corp. He said the hybrid between renting and owning is based on Houston's Project Row Houses, founded in 1993 and focused on the social role of art in neighborhood revitalization.
More than just a place to live, the homes come with the expectation of artists' involvement in the community, which could include porch-based exhibitions and block parties. The goal is to have artists moving in by mid-2016. Price points have yet to be determined.
"It's about improving the area for people in the neighborhood," Strickland said. "The cultural benefit is increased livability around Garfield Park. That's where Big Car's value is—it's not about real estate and restaurants."•
Please enable JavaScript to view this content.