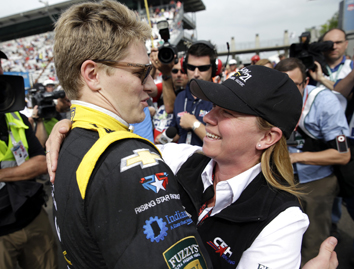 Carpenter Fisher Hartman Racing had its best weekend at the track since forming as Sarah Fisher Racing in 2008.
Josef Newgarden and CFH teammate Luca Filippi finished first and second at the Honda Indy Toronto street race Sunday. It was the team's first ever one-two finish and the second victory this season for Newgarden, 24, a promising driver in his fourth season on the open-wheel circuit.
Sunday marked the seventh win for the team, which has grown from a small, low-budget enterprise to one of the most respected up-and-coming teams in the IndyCar paddock.
Still, CFH Racing has a long way to go to attain the resources of the series' big boys—such as Team Penske, Andretti Autosport and Target Chip Ganassi Racing—but underdog image could be one element that makes the team more attractive to fans and sponsors.
"This [victory] is a great story for their team and great story for the league of David and Goliath," said Zak Brown, founder and executive chairman of Just Marketing International, a Zionsville-based motorsports marketing firm. "For sure it will help them in future sponsorships."
Fisher, who was voted the IndyCar Series' most popular driver three times, has always been popular with corporate partners. And now she appears poised to capitalize on her team's success.
After Newgarden's victory, an NBC Sports Network camera crew descended on Fisher for the first post-race interview, crediting her for giving the young racer his start.
"I'm just really proud of everybody on this team," Fisher beamed as she hugged and high-fived CFH crew members immediately after the victory. "One-two, man, I never would have thought that would have happened. This is just amazing."
Sunday's success came after less than stellar team results at Indianapolis last month and at Texas earlier this month.
"Certainly momentum is a good thing," Fisher told IBJ Monday. "You can't make up confidence. This is good for the morale."
Fisher, 34, has experienced major professional growth on and off the track in recent years.
In 2012, her team moved into a newly constructed $2.5 million facility along Speedway's refurbished Main Street, and in 2014 she merged the team with another operated by current driver Ed Carpenter.
In April, Fisher announced plans to open Speedway Indoor Karting, a 60,000-square-foot facility on Main Street, with her husband, Andy O'Gara.
The karting facility, which also features a restaurant, is set to open in April, 2016, a month before the 100th running of the Indianapolis 500.
Please enable JavaScript to view this content.