Running a shipping and boat-building company in Indiana sounds about as logical as putting a fish farm in Death Valley. But there's nothing far-fetched about it to Mark Knoy, CEO of Jeffersonville-based American Commercial Lines Inc.
Indeed, it could turn out to be quite lucrative. At least that's the hope of Knoy and Los Angeles-based private equity firm Platinum Equity, which bought the place along the Ohio River in 2010.
When Platinum Equity purchased ACL, Platinum took ownership of the nation's largest inland shipbuilder and a freight-hauling company. American Commercial Lines operates from the Gulf of Mexico to the Great Lakes to Pittsburgh and the East Coast.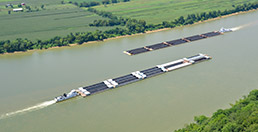 (Photo courtesy of American Commercial Lines Inc.)
Over the years, ACL—at its Jeffboat shipyards, a 68-acre site—turned out everything from World War II tank transports to riverboat casinos to barges for bulk transport of coal, grain and other high-volume goods. That was the good news.
The bad news was that the century-old company had weathered more drama and intrigue than the entire cast of "Dallas."
Originally called Howard Shipyards, it had passed from owner to owner, and during the Great Depression the company was in such trouble that the U.S. Navy purchased it and reshaped it into a new outfit called Jeffersonville Boat & Machine Co. The company endured several post-war ownership changes and numerous economic highs and lows. During one particularly bleak stretch, from 1986 to 1989, it actually ceased barge production.
Labor relations were sometimes just as tumultuous. In 2001, Jeffboat was idled by a wildcat strike, and in 2006, management instituted an unsuccessful union decertification vote. The site's 1,000 workers are still represented by Teamsters Local 89, whose leadership declined to be interviewed for this story.
There was local trepidation when Platinum Equity scooped up the property. But Knoy thinks the fears were allayed by the fact that mass layoffs didn't happen, and that the new owner ponied up $500 million to bring ACL operations (primarily at the Jeffboat shipyard) up to snuff.
Platinum Equity has $6 billion under management and a portfolio of more than 30 companies worldwide that generate $17 billion in annual revenue. Over the years, it's done about 150 deals, with its current stable including everything from Clipper Windpower to Maxim Crane Works to ACL.
It also didn't hurt that Knoy himself is a "barge guy" who was born in southern Indiana and got his first river job at ACL, working on the company's freight boats.
"I think some people's opinion here would have been that some of the last few leaders were corporate guys who didn't know as much about the basics of the business as they needed to," Knoy said. "We were a known quantity within the industry. I think people were comfortable with the fact that some barge guys were coming in to run a barge company."
Knoy said he's reinvested in ACL's people and culture, but much of Platinum's money went toward revamping Jeffboat's manufacturing process. The shipyard recently diversified, branching out from building river barges into construction of ocean-going barges.
River barges are 200 feet long and 35 feet wide; the company can build 300 of them a year. Ocean barges are 300 feet long—as long as a football field—and 54 feet wide. Jeffboat can build 65 a year.
All told, ACL turns out 150 to 250 barges a year.
Oddly, though Jeffboat is by far the company's largest employer, it's by no means the most lucrative part of ACL's business. That honor belongs to its freight service.
The barge line is about 95 percent of ACL's business and the shipyard the balance, Knoy said, "but we view Jeffboat's ability to build barges for us when we need them as more valuable than what they earn. It's more of a strategic asset."
Freight shipping makes the lion's share of the money because it's a huge business in every sense of the word. The massive barges move pretty much anything that's too impractical or expensive to transport any other way.
For instance, the company services an Ohio River power plant that burns a thousand truckloads of coal daily. A single ACL barge can move 350 truckloads of oil or petroleum at a time.
ACL needs every advantage it can get, because the inland shipping industry is full of competitors. Knoy said his company is one of the top players, but there are lots of agile pretenders. Some grain and oil companies even operate their own barge lines.
"I would say it's what you might call a boutique industry," he said. "There's probably about 60 or 70 players in the field."
Though Knoy said he doesn't know the timetable, he figures one day soon Platinum will seek a buyer for ACL. And he'd love to stay on.
"I'm very passionate about the business and loyal to the people," he said. "This is what I do and I enjoy it immensely."•
Please enable JavaScript to view this content.