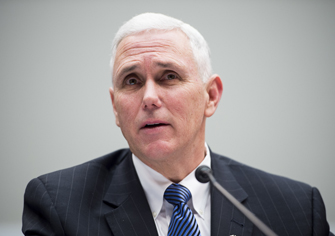 Indiana Gov. Mike Pence is set to formally announce his bid for a second term in the state's top office.
Pence's announcement will come Thursday night during a state Republican Party fundraising dinner in Indianapolis.
A Pence campaign spokesman says the governor will tout state government's fiscal health and Indiana's jobs growth since he took office in early 2013.
Democrats believe they have a chance to oust Pence following the national outcry over Indiana's religious objections law that critics called discriminatory against the state's lesbian-gay-bisexual-transgender community.
Pence doesn't yet face any competition for the 2016 Republican nomination, but two wealthy GOP businessmen have discussed launching or supporting challenges to him.
One of those businessmen, former Angie's List CEO Bill Oesterle, commissioned a poll of Indiana voters to in part gauge the fallout from the furor over the Religious Freedom Restoration Act. The survey by Republican pollster Christine Matthews found that support for Pence is waning, and that 46 percent of voters believed his handling of RFRA was embarrassing and that Pence didn't deserve a second term.
Another 41 percent of voters agreed that Pence may not have handled the issue as well as he could have but that he has done a good job overall and deserves to be reelected.
State schools Superintendent Glenda Ritz and former Indiana House Speaker John Gregg are both seeking the Democratic nomination. In head-to-head matchups, the poll found Pence in a statistical dead heat with the two Democratic candidates.
Please enable JavaScript to view this content.