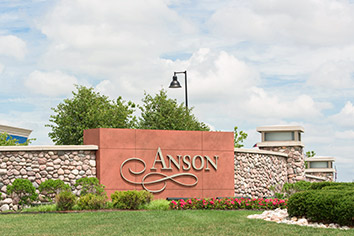 The massive commercial, retail and housing development in Whitestown known as Anson seems to be on a roll.
The Great Recession put the $1 billion Duke Realty Corp. project years behind schedule, but progress picked up again in 2011 and 2012. A tipping point for momentum was the long-anticipated Meijer store's opening in 2014.
"It was a game changer having a grocery store," said Craig Anderson, vice president and general manager at Anson for Duke Realty.
Now contractors are constructing several small retail buildings, developers are plotting a 50-acre retail project, and investors are working on an 80-room hotel and more housing for the project that hugs Interstate 65 in Boone County.
Real estate sources previously believed Simon Property Group Inc. was eyeing the 50-acre site for an outlet mall under its Prime Outlets umbrella, but Anderson confirmed Simon is not involved with the deal.
In addition to significant retail openings, real estate sources credit several factors for the turnaround in both the commercial and mixed-use components, including a huge population growth in Boone County and new town leadership with economic development experience.

Podell
"Our expectation was, we'd probably be way ahead [of] where we are today," said Charlie Podell, senior vice president for Duke Realty's Indiana and Ohio regions. "But right now, everything is going as good as it gets."
Maintaining momentum
The 600-acre industrial park known as AllPoints at Anson has four buildings with 2.5 million square feet fully occupied. Tenants include Amazon.com, Express Scripts, Weaver Popcorn Co., Kenco and General Nutrition Corp.
Eventual plans call for 20 buildings totaling 8.1 million square feet.

Whitehead
The next structure will be 242,000 square feet, which Boone County Economic Development Corp. Executive Director Molly Whitehead said will provide a smaller option for companies.
"That helps us attract a different kind of client to Boone County," Whitehead said. "The key is to help us diversify."
Duke will also construct several building pads so that, when a company is interested in the property, the project can start immediately.
"It gives us a huge advantage," Podell said.
Whitehead said the challenge with the commercial park has been having only open fields to offer when some companies look exclusively for existing structures.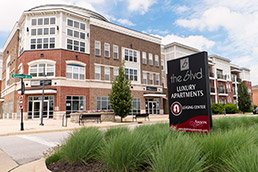 The Blvd at Anson on the south end of the development includes 293 one- and two- bedroom apartments and urban lofts. (IBJ Photo/ Eric Learned)
"There are still companies out there that only want to see green-field sites. … Those needs will always be out there," Whitehead said. "It's just, having that already existing building helps us put our foot in the door."
On the southern edge of the development along Whitestown Parkway, two big-box retailers—Meijer and Lowe's—have spurred smaller retail projects.
Indianapolis-based Revel & Underwood Inc., which built a 75,000-square-foot self-storage facility at Anson two years ago, recently began construction on several smaller buildings to be known as Village 1, 2 and 3.
"We kind of anticipated with Duke being involved that the area was going to grow and take off," said Rory Underwood, president and owner of Revel & Underwood. "It was more the economy keeping it down than anything else."
The 7,000-square-foot Village 1 opened in mid-May and tenants are filling the space already.
Village 2 will have 5,400 square feet of space for three tenants, including Pie Five Pizza and AT&T. The structure is expected to be finished in July, with stores opening in August.
Underwood said his team recognized the high quality of land bordering Whitestown Parkway, and quickly moved forward with Village 3, which will be a 12,000-square-foot space for possibly four tenants near the existing McDonald's. Construction is expected to start in August, with openings by Thanksgiving.
An undisclosed 80-unit hotel is also expected to occupy two acres, and Denver-based Spectrum Retirement Communities LLC will break ground on a 180-unit, four-story senior-living facility in August.
The 50-acre retail development, to the west of Meijer, has some frontage along I-65.
"That's the biggest chunk of retail land that we have," Anderson said.
Developers have a letter of intent from a national retailer, he said, and expect to know within six months whether the project is approved. Some real estate experts still predict an outlet mall, as Simon had been expected to pursue.
Why now?

Norton
About two years ago, Whitestown hired Dax Norton, who served on the Boone County Economic Development Corp. for eight years, as town manager. Norton brought with him knowledge of the business community and hired a town planner to coordinate with developers.
"They make things really easy," Anderson said, noting that other cities aren't as "customer friendly" with efficient development approvals.
The town also has helped spur progress by improving infrastructure. Several road projects are under way or near completion, including connecting Albert S. White Boulevard to Main Street and extending Perry Worth Road from the north to south sides of Anson.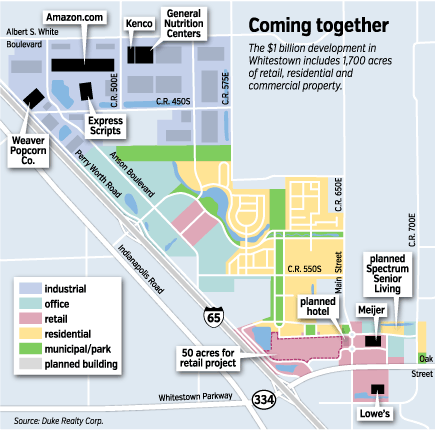 "The road system has just improved by light years from when we started," Podell said.
The water and sewer system is also less than 7 years old, which has been attractive to prospective companies, Norton said.
Boone County is also the state's fastest growing county with hundreds of new single-family housing options. Whitestown is expected to double its population from 2010 to 2020.
Housing developers have taken note: Seven residential projects are under way or planned at Anson that include a variety of senior housing, apartments, townhomes and single-family houses.
Anderson said Pulte Homes has been selling five to six homes a month at its Clark Meadows subdivision, which will include more than 250 homes when completed. An additional 61 homes by Centex Homes, a brand of Pulte, have already been sold.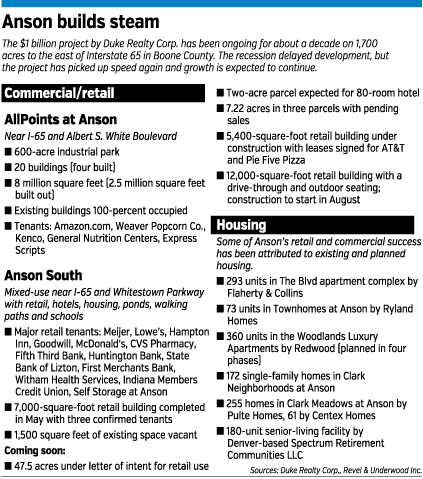 "The housing is just really taking off from when it was down and out during the recession," Podell said.
It also helps that the development borders I-65, a major artery to both downtown Indianapolis and Lafayette.
Norton said the town has seen couples move to the area because one person works in Lafayette and the other commutes downtown.
"That's just a double whammy on being able to attract people, which then attracts business," Norton said. "It's a pretty good cycle we're in right now."•
Please enable JavaScript to view this content.