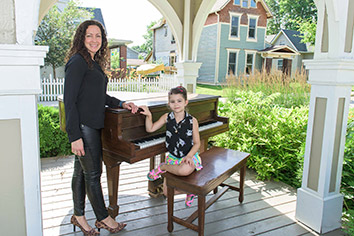 The blue-collar Bates-Hendricks neighborhood south of downtown suddenly is becoming hip among first-time homebuyers who can't afford the higher prices commanded by trendier pockets such as Fountain Square to the east.
The Metropolitan Indianapolis Board of Realtors says 44 homes were purchased in Bates-Hendricks from June 2014 to May 2015, an 83.3-percent increase from the previous 12 months.
While the number of homes sold in the past year still pales in comparison to other more-popular neighborhoods, the stats highlight Bates-Hendricks' prominence as an up-and-coming player in the downtown real estate market.
Home prices are way up, too, though still quite affordable. The average sale price more than doubled, to $77,885, in the year ended May 2015. At the same time, the number of days homes remain on the market has declined nearly 25 percent, to an average of 64, MIBOR statistics show.
Bates-Hendricks' affordability and proximity to downtown and Fountain Square are a few of the neighborhood's biggest attributes, said Joe Everhart, who operates downtown real estate agency Everhart Studio.
"Even though prices have doubled in a year in some cases, it's still been up to now kind of a best-kept secret," he said.
Bates-Hendricks' boundaries extend from Interstate 70 on the north to roughly Beecher Street on the south, and from Interstate 65 and Shelby Street on the east to Madison Avenue on the west.
The neighborhood takes its name from the historic Bates-Hendricks house at 1526 S. New Jersey St. It was constructed in three phases starting in the early 1820s to its completion in 1858.
The second section was completed by Hervey Bates, who served as Marion County's first sheriff and later was president of the Indianapolis branch of the state Bank of Indiana. Thomas A. Hendricks, who served as a U.S. senator, governor and vice president to Grover Cleveland, also lived in the home.
James O. Woodruff, who would later develop Woodruff Place on the east side of the city, built the Victorian Bates-Hendricks neighborhood around the home in 1872, calling it Hendricks Place.
'Our house'
In the middle part of the past century, as more urban residents fled for the suburbs, Bates-Hendricks became a neighborhood of rental properties. But that's starting to change.
Andy Louckes (pronounced "Lucas") and her 7-year-old daughter, Cora, moved in September to their home on South New Jersey Street, just up from the Bates-Hendricks House.
Louckes, 36, an executive assistant for Kite Realty Group President Tom McGowan, had rented an apartment at the downtown Harness Factory on East Georgia Street. As her rent increased, she started exploring the option of owning a home.
Louckes searched for houses in such downtown neighborhoods as the Old Northside and Herron-Morton Place, but couldn't find anything she liked in her price range.
She discovered the house on South New Jersey and looked at it just days after it went on the market.
"I knew immediately that it was going to be our house," Louckes said.
Built in 1902, the 1,400-square-foot home had been redone in 2013.
A major barrier threatened to dampen her dream, though. Louckes' loan approval for $160,000 fell $15,000 short of the asking price. So she dipped into a $5,000 emergency fund to sweeten her offer, which the owners accepted.
It's not that the home didn't generate much interest. It did. But a job transfer overseas meant the previous homeowners had to act quickly, and Louckes could move in immediately without the hassle of selling an existing home.
"Until I came to look at the house, I had no idea this neighborhood existed," she said.
Fountain Square a draw
Bates-Hendricks is still a work in progress. The two-block stretch of South New Jersey where Louckes lives is a smattering of boarded-up shacks and older homes in serious need of repair mixed with those that have been cared for or renovated, offering a glimmer of hope for the area.
Average household income in the neighborhood of 4,600 residents is $31,712, according to DTZ, with only 12.9 percent of adults attending some college. Nearly 65 percent of the homes were built before 1949.
"I feel like a lot of the people who live here are hard-working and are just trying to provide for their families, like I am," Louckes said.
The street she lives on boasts a landscaped esplanade down the center with a gazebo sheltering a piano that harkens to a simpler time.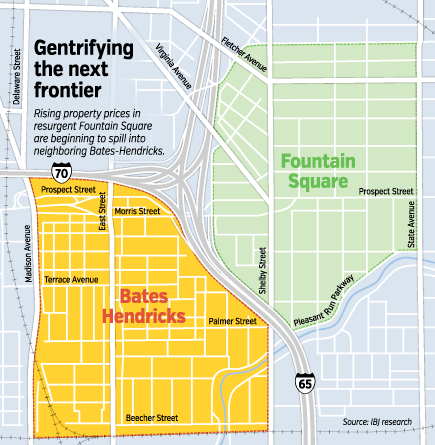 Bates-Hendricks biggest draw, besides its affordability, could be its proximity to the more cosmopolitan Fountain Square to the east, said Mina Starsiak, who with her mother Karen Jensen owns the Two Chicks and a Hammer home remodeling company.
The women shot to fame recently by appearing in a pilot television show on HGTV. The network picked up the pilot and will air the show for a full season starting early next year.
Starsiak and Jensen buy many of their homes through the Renew Indianapolis program, which helps homebuyers purchase abandoned properties. As the inventory of available homes for rehab in Fountain Square shrinks, the women are expanding into adjacent Bates-Hendricks.
The pair bought the home in Bates-Hendricks featured in the pilot for $7,000 and sold it within a month for $200,000 after completing massive renovations. They have three more in the neighborhood they're remodeling or plan to renovate soon.
While remodeling the home featured in the pilot, several neighbors stopped by to thank them for raising their property values, Starsiak recalled.
"A lot of people who love the vibe of Fountain Square are moving there," she said. "Some of the houses in Bates-Hendricks are closer to the center of Fountain Square than homes in Fountain Square are."•
Please enable JavaScript to view this content.