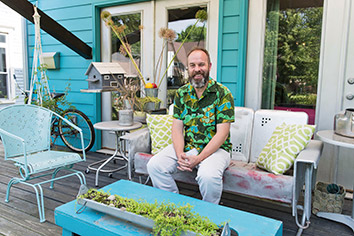 Fine artist Kyle Ragsdale grew up in Texas and spent years in New Mexico. But when it came time to put down roots in Indianapolis, where he's lived since the 1990s, he chose the Fountain Square neighborhood. Instead of buying an existing house in the storied area, he found a vacant lot and built something new.
Not that the 1,350-square-foot abode looks all that new. The slant-roofed house, dominated by an expansive front porch and lots of windows, is an homage to mid-20th century design.
"We tried for a mid-century beach house feel, and I think that's sort of what it feels like," Ragsdale said.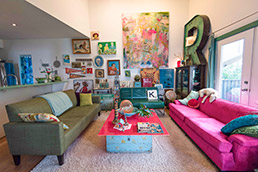 The walls are packed with artwork, including a 6-foot-by-7-foot abstract canvas Ragsdale created. (IBJ photo/Eric Learned)
It's hard to decide which sounds stranger—putting a beach house in an oh-so-very-landlocked historic neighborhood, or the idea that a century-old community like Fountain Square would have any vacant lots left to accommodate it. Yet Ragsdale found one almost across the street from the house where he lived for years. He engaged architect and friend Craig McCormick (whose other projects include The Hinge and Circa Apartments) to design it.
The property is several orders of magnitude smaller than the scale in which McCormick is used to working. The modest home includes three bedrooms, an open-plan kitchen/living room/dining area, and front and back porches. Yet Ragsdale said he doesn't feel cramped. Especially when the weather is warm and the two sets of double doors at the front of the house are open.
"From spring to late fall you can have 50 people here on the porches and in the backyard and it doesn't feel squishy," he said.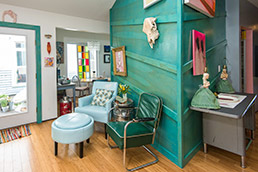 (IBJ photo/Eric Learned)
All those doors are mostly glass, and the house, like most urban abodes, sits cheek-to-jowl with its neighbors. But that potential lack of privacy doesn't bother Ragsdale. He's known most of his neighbors for years, thanks to his longstanding love affair with Fountain Square. A love affair that's only increased with the arrival of the Cultural Trail a couple of blocks away.
"I've always liked Fountain Square, but since the Cultural Trail came this neighborhood has become super walkable," Ragsdale said.
He estimates that by using the trail he can reach Monument Circle in 10 minutes by bike. And his office at the Harrison Center for the Arts, where he serves as curator, is a seven-minute trip.
Given its owner's artistic bent, it's no surprise the house features tall ceilings with plenty of wall space—most of it taken up by paintings. The living room is dominated by a 6-foot-by-7-foot abstract canvas of Ragsdale's own creation. Visitors can take their ease on a mid-century couch re-upholstered in a "party pink" fabric.
Works by local and regional artists are augmented with pieces Ragsdale scoped out at flea markets. (IBJ photo/Eric Learned)
The walls are covered with works by local and regional artists, augmented with the occasional flea market find. For instance, a couple of whimsical portraits by rising local artist Mab Graves grace the walls, along with a paint-by-numbers western scene from an antique store. There's also a mid-century toy house hung on a wall.
"We found it at an antique store in Michigan," he said. "So I told people we bought a house in Michigan."
Other quirky details include a collection of old-fashioned Jadeite milk glass bowls and plates, all displayed in an old-school china cabinet. Their soft green color is echoed in the kitchen, which features a milky green Meganite acrylic countertop and a backsplash with a pebble design in the same hue.
The home's half-bath sits in the center of the kitchen/living room/dining area, in an enclosure that Ragsdale refers to as "the popcorn box." The three bedrooms are tucked away in back. The master suite, where Ragsdale and his wife reside, includes a literal foot locker—an imposing set of industrial lockers in which Ragsdale keeps his extensive footgear assortment.
(IBJ photo/Eric Learned)
"I have a lot of shoes," he said.
The prodigious art collection changes regularly, befitting Ragsdale's curating duties at the Harrison center.
"Five times a year, I move all the art around and change things out and decide where the furniture goes," he said.
Having put down roots figuratively in Fountain Square, Ragsdale is now also doing it literally. His home sits on an ample lot, allowing him to, for the first time, engage in large-scale gardening. He's festooning his yard with flowers and strewing his back porch with trays full of cosmos, zinnias and other flower starts.
"It's my plant staging area," he said.•
Please enable JavaScript to view this content.