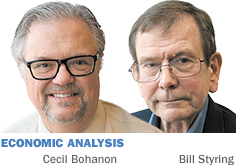 Here's an instructive tale of two businesses. A recent IBJ article highlighted the creative destruction inherent in capitalism. Sometime around the turn of the millennium, typewriters got replaced with computer-based word processing. No one, not even dinosaurs like us, regretted the demise of the typewriter. WP made everything easier. No more messy carbon paper and liquid eraser.
You might think Terry Vorten, the fellow who ran the King Typewriter Agency—an Indianapolis typewriter repair shop that closed down in 2000—would be the exception. Not so. Vorten duly noted that in typewriters' heyday he made "good money" and that he still has occasional work from a few remaining typewriter loyalists. He is not a bitter man.
How did Vorten know when to close shop? We haven't interviewed him, but we suspect the financials of the shop sent a very clear signal that he and his employees ought to find something else to do. Who put him and his employees out of work? We did, by no longer buying typewriters for him to fix. We found something better and sent a signal with our dollars. Consumers said, "We don't want this anymore" and Terry's financial self-interest led him to comply.
The day after the IBJ article, The Wall Street Journal ran a human-interest story in a similar vein. Sometime around the mid 1980s, the world moved away from wind-up watches to quartz watches. HMT Watches, a company run by the Indian government, has a factory in Rangibah that still cranks out wind-up watches even though the factory's electricity was shut off two years ago.
The watches aren't selling, but workers apparently draw regular paychecks from the Indian government. Consumers have been saying, "We don't want these clunkers." The Indian government says, "Pay no attention." The government ministry in charge is finally getting around to closing the factory. Unlike a private company, a state-owned company can draw from the public treasury to continue operations after wristwatch buyers were telling it to shut down.
The difference between India and Indiana is striking. Technological obsolescence imposes costs on workers who lose their jobs. But isn't it wasteful and demeaning to keep workers producing goods no one else values?
As Milton Friedman once observed, if all you want is a "jobs" program, might as well hire people to dig ditches and fill them up again … with spoons.•
__________
Bohanon is a professor of economics at Ball State University. Styring is an economist and independent researcher. Both also blog at INforefront.com. Send comments to ibjedit@ibj.com.
 
Please enable JavaScript to view this content.