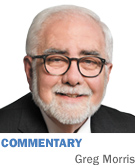 This previously published column has been updated.
As we celebrate the upcoming Independence Day holiday, I thought I would pause from the normal course of business and revisit a timeless topic. This is an excellent time of year to highlight the five freedoms the First Amendment affords us.
Most Americans have no idea what the First Amendment says, but I have supreme confidence our IBJ readership is more informed. That being the case, let's go ahead and review what freedoms the First Amendment provides. For that, I defer to Hoosier State Press Association's general counsel, Steve Key:
__________
In only 45 words, James Madison outlined the core freedoms now guaranteed citizens of the United States that continue to make our country a beacon to those throughout the world seeking the chance to be all they want to be.

Yet, 39 percent of Americans cannot name one of the freedoms delineated by the First Amendment, according to a survey conducted in 2009 by the First Amendment Center at Vanderbilt University.
That statistic is a testament to the proposition that we take for granted the five freedoms we enjoy when examples of that freedom are before us on a daily basis.
"Congress shall make no law respecting an establishment of religion, or prohibiting the free exercise thereof; …"
In 1771, 20 years before the Bill of Rights containing the First Amendment was ratified, the State of Virginia jailed 50 Baptist worshipers for preaching the Gospel contrary to the Anglican Book of Common Prayer.
"… or abridging the freedom of speech, …"
In 1735, New York publisher John Peter Zenger was tried for libel after publishing criticism of the Royal Governor of New York.
"… or of the press; …"
Seven years after the passage of the First Amendment in 1791, newspaper editor Benjamin Franklin Bache, the grandson of Benjamin Franklin, was arrested under the Sedition Act for "libeling" President John Adams.
" … or the right of the people peaceably to assemble, …"
In the 1950s, police in several Southern states used fire hoses, dogs and clubs to break up peaceful Civil Rights marches.
"… and to petition the Government for a redress of grievances."
In 1919, the U.S. Supreme Court upheld the conviction of Terre Haute-born socialist and presidential candidate Eugene V. Debs under the Espionage Act for making speeches opposing World War I.
Students at all levels should be exposed to the 45-word First Amendment, not as an exercise of rote memory, but as a starting point for discussions on topics such as religious tolerance; checks and balances on government power; the impact speech can have at the personal and national level; and civic engagement and the danger inherent when people fail to get involved either at the local, state or national level.
__________
Steve Key's examples of freedom infringements of the past are in stark contrast to what we experience today. Freedom of religion? How many different religious organizations with unique belief systems can you find in Indianapolis today? 90? 100? Maybe more.
Freedom of speech? Have you heard anyone criticize the government lately without retribution? You bet—on a daily basis.
Freedom of the press? Nearly 200 Indiana newspapers are published each week. They contain stories, editorials or letters to the editor critical of local, state or national governmental agencies or elected officials.
Freedom to peaceably assemble? Freedom to petition the government for a redress of grievances? Have you heard of "right to work," RFRA, or any number of other issues that were aired in a very public way and the subject of huge protests?
Yet, even with all the protections in place, our First Amendment freedoms are under constant attack today. All you have to do is watch the national news and you'll find a seemingly unending assault on our freedoms. The fact is, we all need to stand up and do a better job of defending them. If we don't, they'll be gone.
Even with some erosion of our freedoms, we are still extremely fortunate to live in this great country. So let's try to appreciate and defend when necessary the blanket of freedoms the First Amendment provides.
I hope you have a fun and safe Independence Day weekend. Thanks for reading IBJ.•
__________
Morris is publisher of IBJ. His column appears every other week. To comment on this column, send e-mail to gmorris@ibj.com.
Please enable JavaScript to view this content.