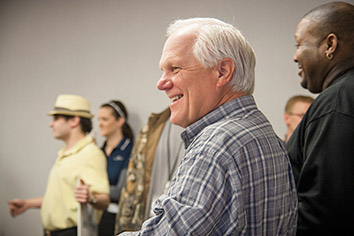 When it comes to corporate megamergers, economics are easy but egos are hard.
Anthem Inc.'s proposed $47 billion buyout of Cigna Corp. is just the latest—and one of the biggest—examples of corporate deals that have gotten hung up not over whether they will goose profits but over which executives, which board members, which hometown and even which corporate name gets pride of place in the aftermath.
"The economics is a math issue, and can make all the sense in the world. But turf is another issue," said Steve Hilbert, who built Carmel-based Conseco Inc. (now called CNO Financial Group Inc.) into a Fortune 500 insurance giant through a string of acquisitions.
"Where's the headquarters going to be? How's management going to be integrated at the C level? Who's going to be in charge of what? It's all of those things," Hilbert said. "The more significant a deal is, the more these issues hit the spotlight."
It's exactly those issues that appear to have stalled the Anthem-Cigna marriage.
Anthem and Cigna have been talking about a merger for 10 months. And the issue of who would be CEO of the combined companies is "a negotiating point that's been in play now for quite some time," Anthem CEO Joe Swedish told investors during a conference call June 22.
According to Swedish's telling of events, Cigna CEO David Cordani first insisted that he be made CEO of the merged companies. When Anthem said no, he asked for Swedish to remain CEO for only a year after the deal.
Anthem countered by insisting that Swedish remain CEO for two years, after which he would step down, but offered to make Cordani president and chief operating officer for that span.
Before Cordani would agree to that, he wanted to be guaranteed the CEO job after Swedish's departure. But Anthem's board refused to do that.
"We were stunned that the Cigna Board continues to insist on a guaranteed CEO position for Mr. Cordani over choosing to allow its stockholders to realize the significant premium being offered," Swedish wrote in a June 20 letter to Cigna's board.
Anthem raised its price four times from June 3 to June 18, eventually offering $184 per share—or 35 percent higher than Cigna's stock was trading just before Anthem's first buyout proposal.
But in its final offer, Anthem actually pulled back on its promises for Cigna's directors and officers. It guaranteed no position for Cordani and cut the ratio of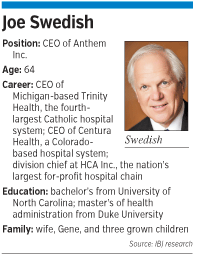 Cigna board seats in the merged company from six out of 14 to three out of 13.
That sparked Cordani and Cigna's chairman, Isaiah Harris, to fire off a letter questioning the judgment of Swedish and his board.
"Your insistence that one person (Joseph Swedish) assume four roles, including Chairman of the Board, CEO, President, as well as Head of Integration, is disconcerting and risky," Cordani and Harris wrote. "We also note that Mr. Swedish has never held the position of Chairman of the Board of Anthem, and you have publicly stated that your current leadership structure allows Mr. Swedish to concentrate on overseeing the management of Anthem's business, while [Anthem Chairman George] Schaefer oversees the functioning of the Board and Anthem's corporate governance."
They added, "Your proposal raises very serious questions regarding your views on proper governance, board oversight and risk management and underestimates the complexity of combining our organizations."
Ana Gupte, an insurance analyst at Leerink Partners, told investors the deal makes financial sense, positioning the combined companies to be 20 percent more profitable together than on their own. Nearly all analysts agreed the deal is attractive to both Cigna and Anthem shareholders.
So during Anthem's conference call, Gupte asked, "Might there be any concessions at all going back to your original proposal of a co-chair on the integration committee and perhaps granting the Cigna CEO the president and COO role to bring the board more aligned with what you're going to do?"
Swedish answered, "Yes, I think that is a question that we continue to ask ourselves."
He also tried to sound a conciliatory tone about Cordani and his team of managers, saying, "I have a great deal of respect not only for the CEO of [Cigna] but also for the management team in its entirety. And I think collectively we will end up in a very good place by way of being able to conclude this transaction."
Impact on headquarters?
Whether the tussle between the CEOs could affect where the combined company has its headquarters is unclear. Neither company has publicly mentioned that as an issue. Anthem spokeswoman Kristin Binns said she had heard nothing on the issue and Cigna spokesman Joe Mondy declined to comment.
Cigna moved its headquarters from Philadelphia, where Cordani's predecessor had lived, to Bloomfield, Connecticut, roughly 18 months after Cordani became CEO. Bloomfield is where Cigna's health care division had been based, the unit Cordani led before becoming CEO, and Cordani already lived near there when he became CEO.
Of course, Cigna's move was encouraged by up to $71 million in incentives, including a $15 million loan, from the state of Connecticut.
"Where the CEO lives is pretty important for that city," said Hilbert, the former Conseco CEO. "It just works out that way. It's human nature."
Anthem swelled in size over the last 15 years by acquiring 13 of its Blue Cross counterparts in other states. With each of those deals, Anthem's leaders insisted the corporate headquarters remain in Indiana, said David Frick, who was Anthem's general counsel from 1995 to 2005.
That created some tricky situations. For example, when Anthem made its biggest acquisition—its $16.5 billion purchase of California-based WellPoint Health Networks Inc. in 2004—it took on WellPoint's name and brought on several of WellPoint's executives in exchange for keeping the headquarters in Indianapolis and for then-CEO Larry Glasscock's remaining in charge.
The battle between Glasscock and WellPoint CEO Leonard Schaeffer over the CEO's role was an issue then, too, acco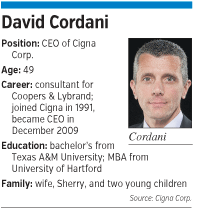 rding to Wall Street analysts.
"Those of us who built the company were really hoping to build a big company here in Indianapolis," said Frick, who, before his time at Anthem, was a deputy mayor under Bill Hudnut. "It was one of the issues we felt strongly about."
Anthem now employs 4,900 people in Indianapolis.
Fiercely competitive
Some past mega-deals among Indiana businesses have foundered on personalities. In 1993, when Indianapolis-based power company IPALCO tried to take over its smaller competitor, Plainfield-based PSI Energy, PSI CEO Jim Rogers instead persuaded a power company in Cincinnati to buy PSI—and let him be CEO of the new company, called Cinergy.
Rogers pulled the same trick when he engineered the sale of Cinergy to North Carolina-based Duke Energy in 2006, again becoming the CEO, and did the same again after the merger of Duke and Progress Energy in 2012. Rogers retired in 2013 but now is one of the board members of Cigna.
Neither Swedish nor Cordani is a stranger to getting big deals done. Just months before being named Anthem's CEO in early 2013, Swedish, then CEO of the Michigan-based Trinity Health hospital, struck a deal with Pennsylvania-based Catholic Health East hospital system to form one of the nation's largest Catholic health systems.
Cordani spent $3.8 billion in 2012 to buy Tennessee-based HealthSpring, which manages Medicare Advantage plans. And when he was head of Cigna's health care division, he oversaw the acquisition of Great-West's health insurance unit and the Sagamore Health Network in Indianapolis.
Both men are fiercely competitive. Swedish is an avid fly fisherman, traveling to the rivers of Colorado, Idaho and even Patagonia to catch fish. He told The Wall Street Journal that he once was dragged for two miles by a fish before he finally reeled it in.
"The bigger the fish, the better," Swedish told IBJ shortly after joining Anthem.
For his part, Cordani has completed more than 125 triathlons, according to Cigna's website.
"I'm sure both of them could lay out a brilliant analysis of what should happen," Hilbert said. "They're both great companies. They've both got great managers. They call it a merger of equals, but somebody isn't going to be equal."•
Please enable JavaScript to view this content.