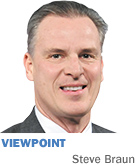 As 2015's graduates pack away their caps and gowns and step out into the world, their quest shines a focus on the critical work facing our state in preparing Hoosiers for careers of the future.

With Indiana nearing its peak of working Hoosiers, there is a collaborative effort under way through the Indiana Career Council to improve education and training opportunities and better prepare our students and workers for the jobs of tomorrow.

The challenge is daunting. Indiana invests more in education as a percentage of its budget than any other state. Yet today, one in six Hoosiers in our workforce lacks a high school diploma, one in three lacks post-secondary skills and credentials, and 40 percent of businesses indicate difficulty finding the talent they need to operate successfully. Young people are graduating from secondary and post-secondary schools without the relevant skills to find employment, as evidenced by youth unemployment for ages 20-24 standing above 10 percent, double the state's overall unemployment rate. We have to do better.

At the Department of Workforce Development, we are implementing a plan directed by the Indiana Career Council's strategic planning efforts called Engage, Align and Advance: Transforming Indiana's Workforce.

Engage consists of working closely with employers to model more than 800 occupations in the Hoosier economy to identify job demand trends and, as important, the relevant soft and hard skills needed to fill those jobs. With this, we believe we can provide an accurate picture of jobs that are going unfilled currently (our skills gap) and those that will be available one, three, five and 10 years down the road. It is extremely important that employers collaborate with us so we can continually improve both our approach and the real-time accuracy of these projections.

The engagement process lays the foundation for the next critical step, which is aligning our education and training assets around building the right skills, at the right time, in the right way. This will affect K-12, our higher education institutions, state agencies that support those trying to re-enter the workforce, and individuals in our existing workforce who want to improve their skills and employment opportunities. As a critical part of the align process, we will work with counselors, parents and students to create awareness around our job demand framework so they can focus on education tracts for jobs that will be there upon graduation from high school or college, resulting in informed decisions related to future career choices.

Once we are successful in our engagement and alignment activities, we can then focus on the "advance" phase of our plan. This will consist of identifying those sectors that we want to grow and building workforce skill sets for economic development purposes. Site selection experts indicate that a skilled workforce is overwhelmingly the primary consideration when deciding where to invest growth capital.

We know that, over the next 10 years, we will need to fill 1 million jobs resulting from new job creation and baby boomer retirements. We have the plan and capacity to engage, align and advance our education and training efforts to take on this challenge.

Are Hoosiers ready to chart a new course for the preparation of our workforce? For the future of this great state, I hope the answer is a resounding "yes."•

__________

Braun, a former state representative from Zionsville, is commissioner of the Indiana Department of Workforce Development. Braun was the founder of Braun Consulting Inc., which provided data-warehousing and data-mining services before its 2004 sale for $40 million.