With only moderate fanfare, contractors recently finished boring the first, roughly nine-mile leg of the DigIndy project. But even though it's the largest public works project in the state, the underground sewage-storage system is arguably the lowest-profile mega project in the city's history.

The $1.9 billion plan to bore 27 miles of tunnels 250 feet below the city sounds like the sort of undertaking that would make a pharaoh proud. That fact that it doesn't get pyramid-like attention is probably due to its proletarian function and relative invisibility. It's not a high-profile sports facility or skyline-changing building, but rather a massive, 18-foot-diameter sewer pipe designed to catch sewage-laced storm runoff. The same stuff that's currently shunted straight into local streams.

When finished, the system will largely solve that problem by storing more than 250 million gallons of wastewater at a time for processing. The work isn't glamorous, but when completed in 2025, it could make a big difference in the cleanliness of the White River and its tributaries.
"We certainly excite a lot of engineers," said John Trypus, director of special projects for Citizens Energy Group, the utility that operates the city's water and wastewater systems and provides natural gas and thermal energy.

DigIndy will satisfy a federal mandate to clean up Indy's antiquated sewer system. In 2006, the U.S. Environmental Protection Agency and the U.S. Department of Justice reached a consent agreement with the city to eliminate 97 percent of combined sewer overflow by 2025.

Though digging a giant tunnel to store it all sounds like the sort of solution a 5-year-old might concoct, it's the remedy of choice around the world for dealing with runoff issues. And Indianapolis' tunnel is far from alone. The EPA has consent decrees with hundreds of towns and cities across the country, including 100 Indiana municipalities, all of which are under the gun to clean up their sewage systems.
Most small towns can take less drastic measures, such as beefing up above-ground storage facilities. However, Evansville and Fort Wayne are preparing their own, smaller tunnel projects. Nationally, dozens of major cities are doing likewise, including St. Louis; Philadelphia; Cincinnati and Columbus, Ohio; and Louisville.

Indianapolis planners regularly compare notes with their opposite numbers in other cities. One of the most useful tips came from Atlanta, which is far along with its own tunnel project. Atlanta advised keeping progress reports to the government as concise as possible, rather than asking engineers to waste valuable time capturing data the feds wouldn't use.

"The report we give the EPA and IDEM is probably less than a quarter of an inch thick," said Mark Jacob, vice president of capital programs and engineering for Citizens Energy Group. "And we've had only one question about it in 10 years."
The 1970s excavation machine, which helped dig subway tunnels in New York City, has set world records for speed on the Indianapolis project. (Photo courtesy of Citizens Energy Group)
Another tip led to the project's biggest cost savings—standardizing the size of the massive tunnel system. Original plans called for tubes of several different bores, each of which would have required its own boring machine to create. That's a big deal because the machines cost a small fortune. Standardizing diameters at 20 feet, 2 inches cut the boring fleet to just one and netted roughly $50 million in savings.

Primo limestone

The project started off with improving the Belmont wastewater treatment plant to handle the extra flow and then drilling the first segment, which is near the plant.

The next two lengths of tunnel, called the Lower Pogues Run Tunnel and the White River Tunnel, will cover seven miles in a Y shape under downtown. Currently in the design phase, they're to be completed in 2021, followed by two more segments, which will add another 10.3 miles to the network when finished in 2025.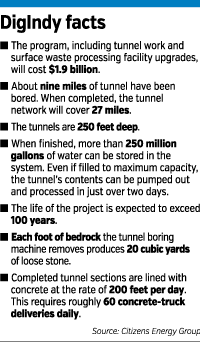 The project's running two years ahead of schedule and $330 million under budget—savings attributable to planning and luck. The rock the machine bored through is tight, dry limestone that's perfect for drilling. So perfect, in fact, that during excavation of the system's first two segments, the machine set world records for the greatest distance covered in a day, week and month for a machine in its class (409.9 feet, 1,690 feet and 5,755.2 feet—just over a mile—respectively).

"We have very good, stable, strong rock, but it's not overly abrasive," Jacob said. "That's important because it allows the contractor to do little maintenance to the machine over the course of construction."

The boring machine is 500 feet long and weighs 450 tons. The "cutter head," powered by eight massive electric motors, grinds the rock face while giant hydraulic braces push against the tunnel's sides to hold it in place. Trailing behind are several support structures that run on rails and handle everything from hydraulics to electrical supply. Staffed by about a dozen workers, it's connected to miles-long power cables, water lines and data links.

"It's a rolling machine shop that supports the working of the tunnel boring machine itself," said Mike Miller, DigIndy construction manager.

'Like a hot rod'

While the project's contractors used hundreds of bore samples from the tunnel's route to design a custom cutter head for the machine, the rest of the machine is anything but new. It was built back in the 1970s and spent most of its career digging tunnels for the New York City subway system.

To call it a steal would be an understatement. New boring machines can cost $50 million to $100 million, and often must be built from scratch to cater to the conditions at particular sites. But thanks in part to Indianapolis' benign digging conditions, this off-the-shelf model was dusted off and fixed up for a price that Miller reckons was an order of magnitude less than buying new.

"We had very, very good luck with this machine," he said. "I'll credit the contractor and the manufacturer for the refurbishment. They built this thing, in the words of one of my coworkers, to perform like a hot rod."

Not that there weren't headaches. For every foot it advances, the machine produces 20 cubic yards of loose rock. And when it's in action, it goes 24 hours a day, five days a week. That makes for some hefty rock-disposal issues.

The tailings are shunted away from the machine by a conveyor belt, which dumps its load onto a much, much longer conveyor system that trundles the stones miles down the tunnel, up the access shaft, and out onto an enormous surface pile. It's then trucked away to a nearby aggregate processing facility, one dump-truck load at a time.

Putting in a conveyor system was tricky because the first portion of the tunnel features two 90-degree turns. Industrial conveyer belts, which are different only in scale from the ones used in grocery-store checkout lanes, don't corner well. So the system DigIndy's contractor developed to handle those turns has been written up in engineering magazines.

Off the grid

Miller said there are advantages and disadvantages to working underground. One of the big pluses is the weather. Or the lack thereof. No matter what's happening on the surface, in the tunnel it's pretty much always in the mid 50s. And there's no worry about workers getting distracted by their cell phones. The tunnel sits as deep under signal-blocking bedrock as the Statehouse looms above ground, which means you get exactly zero bars.

"You're off the grid," Miller said.

Communication with the surface is accomplished via land lines snaked down a 250-foot-deep shaft. Fresh air is also brought in there, along with electricity, water and whatever else is needed. Workers ascend and descend in a wire basket lowered by a massive crane.

When it comes to job hazards, Miller said, the vertical shaft offers the most obvious potential problems. Mostly because anything that falls from the top—be it a pair of sunglasses from someone's pocket or a stone from the buckets taking rock to the surface—picks up quite a bit of speed before hitting bottom. Which is why nobody loiters there.

With boring for the first tunnel section recently completed, the machine sits idle at the bottom of a massive retrieval shaft near West Street, awaiting developments. The project is to be tackled in three sections, each contracted separately. If the Shea-Kiewit joint venture that did the first leg wins the second, it's a simple matter of tuning up the current boring machine and resuming drilling. But if another company wins, the unit will have to be removed and a new one acquired.

Putting a boring machine in place is a big deal. Because of their massive size, the machines must be lowered in pieces down the vertical shaft, then assembled in a starter tunnel that's bored with explosives. It takes humans three to six months to carve out a 500-foot starter tunnel, but the boring machine can cover the same distance in about a week.

The tunnels will be sheathed in a thick concrete liner that will reduce their diameter to 18 feet. Crews will work 24 hours a day, five days a week to finish by November 2016. By that time, sewer lines will be connected to the first section and new sewage treatment capacity will come online, allowing it to open for business. The entire system, which can capture north of 97 percent of combined sewer overflow discharges, will begin operation in 2025.

And it will stay online for a very, very long time.

"For the rock tunnel component, we expect a 100-year-plus lifetime," Trypus said.•