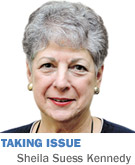 Accusations of judicial activism are routine whenever a court comes to a conclusion with which one disagrees. (See, for example, Peter Rusthoven's column in this space last week.) Given some of the high-profile decisions of the U.S. Supreme Court's most recent term, and those predicable accusations, this might be a good time to define "activism."
Although there are differences of opinion among lawyers and legal scholars about the degree of deference the judicial branch owes to legislative judgments, "judicial activism" is generally defined as a willingness to strike down laws that have been duly enacted by elected representatives.
The problem is, when laws clearly run afoul of the U.S. Constitution, it is the duty of the court to invalidate them.
The issue is not the wisdom or lack thereof of the law being challenged; the issue is whether it violates the Constitution—and disagreement with the court's constitutional analysis does not mean the decision was "activist."
A couple of examples might help us distinguish between decisions that can legitimately be called "activist" and decisions we simply believe are wrong. Take the Voting Rights Act. The Court vacated a (bipartisan) legislative determination that voting in certain enumerated states should remain under federal supervision—a determination it had affirmed in 2006 after extensive hearings—and substituted its own judgment for that of the Congress. (Disagreeing with that legislative determination, Chief Justice John Roberts' opinion simply asserted, "Our country has changed.") Agree or disagree with his conclusion, that's the textbook definition of activism.
The Citizens United campaign-finance decision—a decision with which I strongly disagree—is a different matter. If the majority's First Amendment analysis is correct, if money does indeed equal speech, then the Court was required to strike down restrictions on campaign spending, and those of us who disagree with that result must remedy the situation by amending the Constitution. (I agree with many legal scholars that the court's 1976 ruling in Buckley v. Valeo equating money with speech was wrong; certainly, the so-called originalists who tell us that the founders' view of liberty didn't contemplate same-sex marriage would have to concede that those same founders didn't foresee either corporate personhood or political contributions as a form of speech.)
Here's the thing: It is entirely possible to come to principled disagreements about what the Constitution requires. If a justice is convinced that a duly passed law is contrary to the Constitution, he or she might be wrong, but invalidating that law is not activism.
The charge that the same-sex ruling was activist rests on a belief that the Court should have left the decision to the voters. But in America, fundamental rights are not subject to vote. The issue was whether marriage is a fundamental right protected by the Constitution, and in 14 cases since 1888 the U.S. Supreme Court has concluded that it is.
If the choice of one's marriage partner is a right—that is, if it is not a decision that government gets to make—then the will of the voters is irrelevant. We don't get to vote on laws compelling our neighbors to attend a certain church, refrain from reading certain books, or hold certain political opinions.
As Justice Robert Jackson wrote nearly a century ago, "[i]f there is any fixed star in our constitutional constellation, it is that no official, high or petty, can prescribe what shall be orthodox in politics, nationalism, religion, or other matters of opinion or force citizens to confess by word or act their faith therein."•
__________
Kennedy is a professor of law and public policy at the School of Public and Environmental Affairs at IUPUI. She blogs regularly at www.sheilakennedy.net. She can be reached at skennedy@ibj.com. Send comments on this column to ibjedit@ibj.com.
Please enable JavaScript to view this content.