When you go to a multiplex to see a movie, chances are you've seen trailers, heard gossip or stars being interviewed on late-night TV, watched commercials, and/or read a bunch of reviews so you know if it's "supposed to be good."
When you go to a film festival, on the other hand, there's a good chance you know little about the movie choices except a brief description in the program, a single still, and perhaps whatever you can distill from poster art (if there is a poster).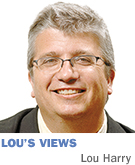 For some, that might sound like a bad thing. But in an over-marketed movie world, ignorance can be, if not blissful, at least part of the excitement. Plus, it encourages conversation in the lobby.
Of course, if your first pick is a dud, that can put a damper on your desire to see more.
So in hopes of helping you find a blissful spot between too much and too little knowledge, let me offer a few picks to get you started on your journey into the Indianapolis International Film Festival, July 16-26 at the Indianapolis Museum of Art. Remember, this is just a few good selections to prime the pump (based on my screening of about a dozen of this year's offerings) but not too many to get in the way of your sense of adventure and discovery.
There's "For Grace," a documentary that chronicles the creation of a Chicago restaurant whose chef/owner aspires to be not just good, but one of the best in the world. More layered and compelling than anything you'll find on TV foodie shows, it's also a deeply human story that includes a family tragedy, some serious truth-telling about the business challenges, and some cool insight into how much your waitperson knows about you. It also comes with the not-easy-to-hear message that sacrifices are part of success at this level.
On the fiction side, "Night Owls" could have been just another indulgent twentysomething dramedy. But unlike its weaker cousins, "Night Owls"—which tells of an alcohol-fueled one-night stand between an eager-to-please coach's assistant and his boss' mistress—is a lesson in what can be done when you've got a smart script, strong-but-unobtrusive camerawork, and a director who understands that pacing is key to such a small-cast piece. Of course, a pair of winning performances in the leads helps considerably.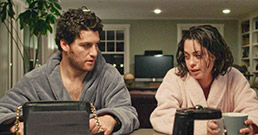 "Night Owls" (Photo courtesy of Indy Film Fest)
More structurally ambitious, more heavily populated, and also strongly acted is "Somewhere in the Middle," in which a disconnected married couple splits and explores other relationships. Doesn't sound terribly original? Well, the performances—developed through extensive improvisational work—serve the story and its mix of relationships.
The film is gritty without being sloppy, and the way it loops back on itself to give varying perspectives is insightful rather than indulgent. "Somewhere in the Middle" reminded me how much I appreciate watching a movie and having no idea if a character is going to prove to be noble or dangerous and where relationships aren't predisposed by cinematic conventions to be healthy or destructive. When such films work, any character can be redeemed and any can bring about crisis.
That tension helps make this one a good date for long-term, adventurous couples open to some serious post-show discussion.
Alas, I haven't gotten a chance to check out many of the world cinema choices, which bring in features and shorts from Bangladesh, Germany, Portugal, Israel and other countries. There's also a long list of short films, including "Abandoned Goods," an enlightening/disturbing/beautiful look at art and the mentally ill, "Making It in America," a seemingly simple film that underlines the humanity beneath immigration statistics, and "Elgin Park," about an artist creating a world in miniature. Like the best shorts, these know just how long to stick around for maximum impact.
Keep an eye on my A&E blog at www.ibj.com/arts. If I find more films to recommend, I'll share my thoughts there.•
__________
This column appears weekly. Send information on upcoming arts and entertainment events to lharry@ibj.com.
Please enable JavaScript to view this content.