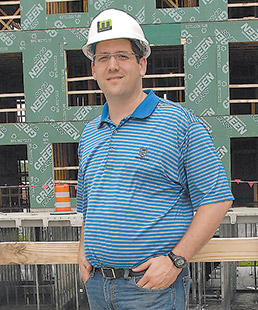 3-year growth: 651 percent
2014 revenue: $41 million
Right place, right time:
Working through the bad economy prepared Milhaus for the good times that have followed. CEO Tadd Miller said his real estate development, construction and management company has been able to build strong relationships with capital sources and "catch a tidal wave of positive market timing."
Expanding markets:
Milhaus has projects in eight markets, and soon will be in 10 to 12, Miller said. Among its current projects is a $58 million development across the street from the University of Memphis that includes 32,000 square feet of retail space, 354 apartments, a 511-space parking garage and land for 35 town homes. Another is the $28 million Mentor and Muse project at 451 E. Market St. in Indianapolis, which will include 242 apartments and around 20,000 square feet of commercial space.
The mission:
Miller describes his company's mission as creating "hard-to-assemble, hard-to-entitle, hard-to-replicate projects that make a significant neighborhood impact."
Cyclical business:
Miller said the most difficult thing his company deals with is knowing that "any day, the light switch of pipeline, lender, capital, oversupply, etc., can turn you upside down. … This fear is what keeps us so diligent, and hopefully is what will keep us from making big mistakes in the long term."
Big plans:
Milhaus has a goal to have 20,000 units in 10 markets, by 2020, with a market value exceeding $4 billion, Miller said. "We think this is lofty, but we are well on our way to being there and are closer to that than I thought we would be in 2015," he said. "Hopefully, we can meet these goals, or at our current pace even exceed these goals." He also said staffing and market announcements coming later this year "will add even more credence and likelihood we will meet or exceed these goals." •
Check out more of IBJ's ranking of Indy's fastest-growing companies.
Please enable JavaScript to view this content.