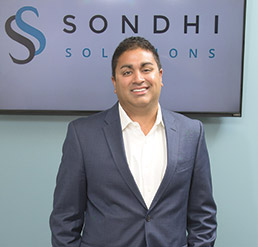 3-year growth: 169 percent
2014 revenue: $5.9 million
New brand:
Last year, the 5-year-old IT company Sondhi Solutions went through a rebranding and restructuring. Its focus is now on three divisions: cloud-managed solutions, enterprise solutions and resource solutions. The first handles small business and government; enterprise is larger customers, with 500-1,000 people; and resources works on outsourcing and staff augmentation. "We have really put an emphasis on our managed solutions in the last year," President Jason Sondhi said. "We did a lot more outsource project management. That's really what's led to a lot of our growth."
Defining who they are:
"We are business consultants who apply technology to problems," said Sondhi, who grew up in Indianapolis and Carmel, worked in an IT job for an insurance company in Chicago, and worked the Mitch Daniels and Greg Ballard campaigns before starting his company.
Resource solutions:
Good IT people are hard to find, Sondhi said. So the company's recruiters recruit not just for their clients but for Sondhi Solutions, too. They've started to hire young people just out of school who are trainable. "Soft skills are very important to us—as long as you have a foundation and some sort of ability to learn," he said. The company pays for Microsoft certification for a lot of its people to learn development and different technologies.
Its clients:
Sondhi has worked with The Whitsett Group, a prolific developer of affordable-housing projects, as well as the states of Indiana, Wisconsin and Ohio.
Growing Midwest presence:
Sondhi said the company's goal in the next three years is to establish a presence throughout the Midwest and continue to grow partnerships. He boasts that Sondhi Solutions has never lost a client. "Resources are hard to find, and businesses are looking to us because that's what we do: Developing good resources," he said. •
Check out more of IBJ's ranking of Indy's fastest-growing companies.
Please enable JavaScript to view this content.