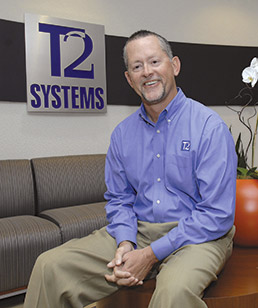 3-year growth: 147 percent
2014 revenue: $60.3 million
Branching out:
Michael Simmons thinks parking should be convenient, but not free. As co-founder and CEO of T2 Systems, he said, his mission is "to help institutions that manage parking manage parking more effectively." Through a combination of new customers, services and acquisitions, the company has grown to having a presence at 65 percent of the top 150 universities and in nearly all 50 states and Canada, he said.
Twenty-one years later:
When it began, T2 worked exclusively at universities, where it provided systems to sell parking permits and pay tickets. About eight years ago, the company added garage systems—gate arms, and access and revenue controls. "That's the fastest-growing segment of our business on a percentage basis," Simmons said. T2 also expanded to do business with hospitals, airports, cities and private business campuses. Its nearly 1,000 customers include universities, as well as the cities of Boulder, Colorado; Houston; and Bloomington.
Acquisitions:
In early 2014, T2 bought a pay-station company in Vancouver called Digital Payment Technologies, which gave it a presence in on-street meters and pay stations. Last fall, it purchased Orange County, California-based Case Parking, whose services include a counting mechanism that triggers a smartphone app that notifies people where parking spaces are available.
Beating the competition:
T2's competitors include Xerox—"the 800-pound gorilla in our world," Simmons said—as well as a couple of other companies similar in size to T2. And typically, "we're not the cheap guys on the block. So when there's a bid situation—just low cost—those are very difficult for us to win." T2 does best, he said, when the projects begin with requests for proposals.
What's next:
Simmons said T2 still has markets available to conquer. He'd like to continue to achieve 15-percent organic growth and acquire companies that fit the T2 portfolio "so our customers can have a one-stop shop."•
Check out more of IBJ's ranking of Indy's fastest-growing companies.
Please enable JavaScript to view this content.