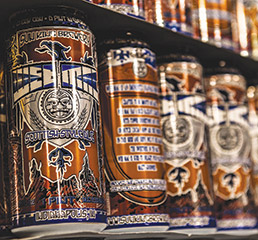 3-year growth: 88 percent
2014 revenue: $9.8 million
Brewing and lobbying:
Sun King has grown so much since its founding in 2009 that, at the end of 2014, it was forced to stop distributing its beer outside central Indiana because of laws limiting production capacity. Brewer/owner Clay Robinson said his company and Munster-based Three Floyds spent much of the winter of 2015 successfully lobbying the General Assembly to raise Indiana's small-brewery limit from 30,000 to 90,000 barrels a year. (A barrel is 31 gallons.) "Budweiser sold something like 1.3 million barrels of beer in Indiana last year," Robinson said. "And we can only sell 30,000?"
Expanding to Fishers:
In August 2014, Sun King purchased 13 acres in Fishers. Robinson said the brewery is working on a longer-term development plan to build a second facility that will allow it to grow to the 90,000-barrel level—and possibly beyond. That plan should be taking shape over the next three years, though it might be five to 10 years before Sun King bumps up against the new limitation.
In the meantime:
Sun King is working to maximize the production capabilities of its current facility on College Avenue, Robinson said. It's adding new tanks and a new canning line. The company also added personnel and invested in quality control that's "allowing us to produce the highest quality of beer with greater consistency," he said.
Sold throughout Indiana:
Robinson said Sun King should be available for sale statewide later this year. There are no plans to go beyond Indiana. "Our goal from the beginning has always been to be Indiana's beer," Robinson said. "Our hope is to continue to grow and sell more beer in Indiana and be a point of pride for Hoosiers."
Enjoying himself:
Robinson just passed his 16th anniversary as a professional brewer. "Beer still tastes as good, for sure," he said. •
Check out more of IBJ's ranking of Indy's fastest-growing companies.
Please enable JavaScript to view this content.