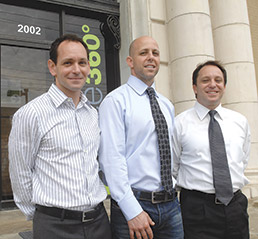 3-year growth: 84 percent
2014 revenue: $22.2 million
Returning to the list:
At the end of 2012, Office360 sold its document-management division. Without the volume from that operation, the company fell off IBJ's list of fastest-growing companies for a couple of years. But Steve Nahmias, an Office360 principal, said the sale enabled the company to fund and focus on its office products business. That area has continued to grow by earning market share from its large national competitors and making some key acquisitions.
Recent purchases:
In 2013, Office360 acquired Save It Now, an Indianapolis office supply company. Nahmias said Save It Now's former customers "are doing more volume with us today than they were with Save It Now before the acquisition." In April, Office360 bought South Bend-based Commercial Office Products & Supply Inc., which gives it a presence in northern Indiana. Nahmias said the company is looking at other potential acquisitions in the next year.
Battling the competition:
Nahmias said Office360 has won significant business in the past year or so, including Finish Line, Duke Realty Group and Gene B. Glick Co. It's tough to compete against Staples, Office Depot and Office Max, he said, but "a lot of companies and organizations in Indiana prefer to do business with a local company. But they won't do it at all costs."
Is bigger better?
The biggest challenge, Nahmias said, is to get a fair hearing with large companies because Office360's major competitors have convinced large customers they need to do business with the nationals. "We have to provide a program that's cost-competitive and offer the same services both locally and nationally as our national competitors do," he said.
How they win:
Nahmias said Office360 searches out "enlightened companies" willing to give the local guys a chance. "It's not easy out there," he said, "but we're optimistic." •
Check out more of IBJ's ranking of Indy's fastest-growing companies.
Please enable JavaScript to view this content.