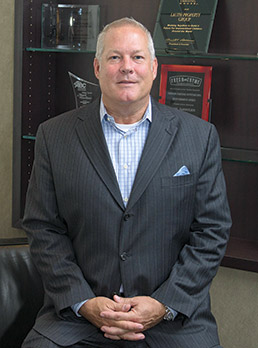 3-year growth: 74 percent
2014 revenue: $24.4 million
Advantages:
A growing economy, low interest rates, available capital and pent-up demand are some of the reasons real estate developer Lauth Group Inc. cites for its growth. Managing well through the lean years of the Great Recession is another. "We dug in, right-sized the business, and definitely retained the brightest and best in the organization to put us in the position to take advantage of the wind that's now at our back," President Michael Jones said.
Focused on diversification:
Lauth is an integrated commercial development construction company focused on office, industrial, retail, health care and multifamily. The last of those is new. "We made the decision to create pools of assets that would be a longer-term hold for our company," Chief Investment Officer Michael Garvey said. "Multifamily fits that very well … . It aligns with our long-term strategy of owning more assets."
Finding good people:
Five or six years ago, when work was at a standstill, a number of people got out of the business and the next generation gravitated toward technology and other fields.
"In 2011, the switch came on," Jones said. "There was a plentiful amount of employees and employment and available labor in 2011, '12, '13, but '14-'15, the demand has surpassed the supply, and everybody's in a catch-up mode in training."
A good investment:
Because Lauth is in a capital-driven business, its successes in the last three to four years have put the company in a position to attract more equity and more projects, which has allowed it to continue to grow. "With the [Dow Jones industrial average] around 18,000, investors have limited opportunities for double-digit return," Jones said. "Real estate is one today—and hopefully for some time to come."
Looking forward:
Lauth plans to stay the course as much as possible, Jones said. The company saw significant growth in the early 2000s and learned a few things then: diversify, bigger is not always better, and manage to both a profit and a pace that work for your associates and clients.•
Check out more of IBJ's ranking of Indy's fastest-growing companies.
Please enable JavaScript to view this content.