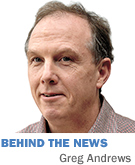 A magistrate judge this month excused the head of the Ann Taylor women's apparel chain from having to give a deposition in a drawn-out lawsuit in which a rival developer accuses mall giant Simon Property Group Inc. of monopolistic practices.
Kay Krill—CEO of Ann Inc., whose Ann Taylor and Loft chains are fixtures in Simon malls—is no doubt pleased, especially since the deposition was to focus on her private correspondence and conversations with Simon CEO David Simon, the most powerful man in the mall industry.
In the suit, South Bend-based Holladay Properties alleges that Simon Property Group nearly a decade ago used anticompetitive tactics to poach retailers interested in its Heritage Square lifestyle development in Mishawaka, a project Simon saw as a threat to a lifestyle component it was adding to its own University Park Mall nearby.
The federal case has dragged on for four years in South Bend and isn't even set for trial yet, slowed in part by the challenge of arranging some 30 depositions, many involving high-level executives with crowded schedules.
Holladay had been trying for months to schedule a videotaped deposition for Krill, who is not a party in the case. But Magistrate Christopher Nuechterlein gave her a pass after the chain argued that "Ann Taylor will be forced to interrupt Ms. Krill's highly regimented scheduled to be deposed on issues about which she has already stated she has no recollection—issues that several individuals involved in the relevant transactions already testified about."

Krill
That doesn't mean Ann Taylor is out of the picture. The New York-based company has provided nearly 30,000 pages of documents in response to discovery requests related to why the company signed a lease in 2006 to open a Loft store in Heritage Square, only to reverse itself two years later and instead open in University Park. The company already had spent $100,000 on constructing the Heritage Square store when it pulled the plug.
The company caved only after David Simon "decided to 'go nuclear' and reminded Ann Taylor of the fact that they were 'in the process of proceeding with documentation for almost 50 renewals and over 25 new factory and full-price stores,'" according to a judge's summary of the complaint, which is under seal.
The suit alleges that Simon pressured other retailers in similar ways and that Lane Bryant and J. Jill both decided not to lease at Heritage Square because of threats from Simon.
Judge Jon DeGuilio in 2013 found support for a claim of unlawful restraint of trade via "tying"—which amounts to forcing a buyer to take one product under threat of losing another—and denied Simon's motion to dismiss the case.
"This is a house of cards," an unnamed Simon executive wrote in an email quoted in the ruling, describing the potential loss of tenants to the rival project. "If Loft starts construction … so will Coldwater and the whole streetscape falls apart. Stick a fork in it because it will be done."
Holladay argued that it needed to depose Krill because she and David Simon were the only participants in a meeting that yielded a February 2008 deal under which Ann Taylor committed to open a Loft in University Park Mall and Simon agreed to move other lease deals forward.
After the meeting, Krill wrote Simon a letter outlining their discussion. She closed, "David, I must stress, I am not having this conversation with any other landlords at any level. Your complete discretion and that of your team is of critical importance. I hope you continue to know that Simon Property Group is very important to us."
That's not the only example of Ann Taylor's deference to the mall developer. After conflicts arose between Simon and Ann Taylor's head of real estate, Giovanni Scotti, Ann Taylor dismissed Scotti and replaced him with George "Buck" Sappenfield, an industry veteran who spent a decade working at Simon.
Krill wrote in her letter that "our decision to add Buck to the team was deeply rooted not only in his stellar reputation but also his long standing positive relationship working for and with the Simon Property Group."
After joining Ann Taylor, Sappenfield wrote in an email to a Simon executive: "When I got here being sure we did not open in the life style cross the street from University Mall … ways [sic] the number on [sic] priority. David came and talked to Kay about it. We made sure that did not happen."•
Please enable JavaScript to view this content.