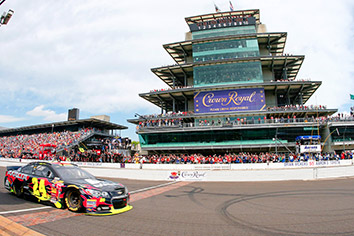 Robbie Marvel has attended every Brickyard 400 since the NASCAR race began at the Indianapolis Motor Speedway in 1994.
This year's likely will be his last.
"Since I'm a big Jeff Gordon fan and this is his last race here, I figured this is my last Brickyard, too," said the 39-year-old barber as he sipped on a bottle of chocolate milk and munched on doughnut holes at Bryant's Barber Shop on the south side.
Unfortunately for Speedway officials, he isn't alone. Marvel, who has seen races at about a dozen NASCAR tracks, said the relationship between Hoosiers and Gordon is a special one. And Marvel has customers who feel the same.
"Just look around the [IMS] during the Brickyard," said the barber, grandson of retired longtime U.S. Auto Club official Bill Marvel. "You see by far more Jeff Gordon flags, hats and shirts than any other driver at any other track. It's a pretty unique level of support by one city for a single driver."
Short term, that level of commitment should pay off for IMS. Racing marketers expect attendance at this year's Brickyard 400 on July 26 to be up significantly, especially if the weather is nice. With tickets costing $85 or more each, that could add up to an additional $1.5 million in race-day revenue, sports marketers said.

Marvel
Year-over-year ticket sales for this year's Brickyard 400 have been up every week since the 43-year-old Gordon announced on Jan. 22 that he would retire following this season, said IMS President Doug Boles.

Massive marketing splash
Speedway officials didn't waste any time incorporating Gordon into almost every aspect of marketing this year's race.
"That's one reason we chose him to drive the Indy 500 pace car," Boles said. "It was an opportunity for us to thank him for all he's done for us and to remind Indy 500 customers this year's [Brickyard 400] may be the last year to see Jeff Gordon race at the Indianapolis Motor Speedway."
There's a chance Gordon could return for a one-off running of the Brickyard 400 or even the Indianapolis 500, but Boles and Gordon's handlers say that is unlikely.

Boles
Gordon is featured in virtually every TV, print and billboard ad the Speedway has run or is planning to run this year.
"We have never called out one driver in one of our ad campaigns for any race like we are this year with Jeff Gordon," Boles said.
Nathan Davis, a 26-year-old Indianapolis CPA, is one Gordon fan who will return to the Brickyard 400 to see Gordon race at Indianapolis one final time. This will be Davis' 15th Brickyard, but the first in five years.
"I wouldn't miss it. Not this year. It's historic," said Davis, who attended four of Gordon's record five Brickyard 400 victories.
Davis still remembers the first Brickyard 400. He was 6 years old and came with his dad, who was cheering for Dale Earnhardt Sr. That didn't sway Davis.
"Gordon won that first race and it just stuck," Davis said. "He was from here. He was our guy. And I've never stopped cheering for him."
Zak Brown, whose Zionsville firm, Just Marketing International, represents Gordon, said few drivers appeal to such a broad spectrum as Gordon, who was born in California but moved to Pittsboro with his family at age 13 so he could participate in more racing opportunities.
"He's a role model for kids. He's extremely popular with women and just has a much broader fan base than almost any other NASCAR driver," Brown said. "With his Hoosier connection, that's just brought him tons of followers here."
Brickyard abandonment
Davis went to every Brickyard 400 until 2006—when it simply got too expensive while he was in college. He's attended sporadically since.
The expense is also one reason Marvel is considering dumping his Brickyard tickets. But there's another reason.
"It's boring now," he said. "The only passing that goes on is in the pits."
The IMS is a relatively flat track, and it's difficult for stock cars to pass on it. NASCAR modified its chassis in 2007 and the aerodynamic changes made passing even more difficult here.
The new chassis and newly ground track surface caused the infamous tire fiasco at the 2008 Brickyard, where cars had to pit every 10 to 15 laps to change shredded tires.
In 2005, the year after Gordon won his fourth Brickyard 400, attendance was 280,000, according to NASCAR. During those halcyon days, you couldn't walk five feet without bumping into a Gordon fan.
"At the height of the race, Jeff Gordon had six merchandise trailers," said Dave Moroknek, who was the Speedway's senior director of marketing and consumer products from 1992-2002 before he took over locally based licensed merchandise company MainGate Inc. "Other popular drivers, guys like Dale Earnhardt Sr., would maybe have three. A lot of well-known guys like Dale Jarrett would only have one or two."
Moroknek, who now works with multiple race series in numerous markets, said he never saw as much merchandise sold for one driver as when Gordon won the Brickyard 400—especially in 1994.
As NASCAR's popularity started to wane a bit in the late 2000s, Brickyard 400 attendance did the same. That slide was greatly accelerated by NASCAR's chassis change, and the year after the tire fiasco, Brickyard 400 attendance plummeted to 140,000—half of what it was only four years earlier.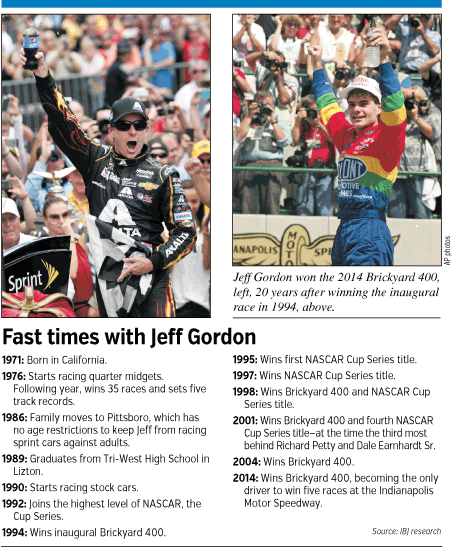 As the recession set in, attendance dipped below 100,000. Sports marketers say it would have tanked even more if not for Gordon. NASCAR no longer releases attendance figures, but sports experts estimate the Brickyard 400 draws 85,000 to 90,000 these days.
Bracing for post-Gordon era
Ken Ungar, IMS chief of staff from 1997-2005, said Speedway officials need to start bracing for the post-Gordon era.
"During this year's Brickyard 400, the Speedway staff needs to talk about the legacy of Jeff Gordon and what it means to the future of NASCAR," said Ungar, who now runs his own sports marketing consultancy, U/S Sports Advisors. "They need to talk about other NASCAR drivers in the context of Jeff Gordon and to emphasize they stand on the same stage Gordon has stood on."
Davis, the local CPA, isn't sure that tactic will work. He's thinking about transferring his allegiance to Chase Elliott, but he's not sure. Right now, Davis is more concerned with seeing as many of Gordon's remaining races as he can.
Like a number of Hoosiers, he is traveling the country this race season. Along with his wife, brother and other family members, Davis will visit a dozen or so NASCAR tracks to watch his Hoosier hero burn rubber. He's attending this year's Brickyard 400 with his grandma and great aunt.
"I have a special place for Jeff Gordon," Davis said. "He brought me into this sport. There's a connection. And when he's gone, that's gone."
Not only that, but the exposure to other NASCAR tracks has dimmed Davis' view of stock car racing on the Speedway's famed 2-1/2-mile oval.
Speedway and NASCAR officials are trying to improve the experience. NASCAR this year is unveiling a new chassis formula especially for the Brickyard 400.
It did the same—with some success—earlier this month at the Kentucky Speedway. Modifications are being made to the rear spoiler to make passing easier and racing more exciting at Indy.
It's not the first time NASCAR has taken a shot at this. In 2013, officials made a media sweep through Indianapolis touting a new Gen 6 chassis and promising better racing at the Brickyard. Marvel said he didn't notice much difference.
"It's still like a parade," he said.
Marvel is more optimistic about Speedway officials' possibly adding a paved apron on the low side of the track, which would allow more passing. Boles, the IMS president, said that is under discussion, but added safety must be considered for both NASCAR and IndyCar racing.
Davis isn't sure chassis modifications or adding an apron will bring him back after this year. Boles understands the sentiment.
"Jeff Gordon is certainly as unique a personality, with the exception of Richard Petty and Dale Earnhardt Sr., as NASCAR has ever seen," Boles said. "Replacing that is difficult. Right now, we just want people to focus on enjoying seeing Jeff race here one last time."•
Please enable JavaScript to view this content.