Despite billing itself as the Crossroads of America, Indianapolis isn't always seen as the easiest place to get to—not by air, anyway.

The lack of nonstop flights to and from Indianapolis International Airport has become a drag on the city's efforts to build its corporate meeting and convention business. It's a problem that a unique coalition led by the Indianapolis Airport Authority, the Indy Chamber and city tourism booster Visit Indy are taking aim at by lobbying airlines to add more nonstop flights to important commerce destinations.

The effort is paying off: In the last year, the airport gained 22 nonstop flights, raising its total to 41. That's more than it has had since Indianapolis-based ATA Airlines Inc. folded and airlines started a wave of consolidation six years ago.

Meeting planners once enamored by Indianapolis' spacious convention center, myriad indoor walkways, and a downtown so compact and walkable it's been rated as one of the best by several travel magazines now say it takes more to be a thriving—and growing—convention city.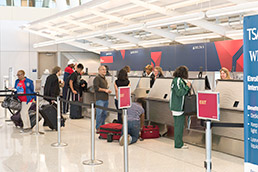 The airport coalition has negotiated with Delta to add two nonstop flights from Indianapolis in the last year—to Miami and Cleveland. (IBJ photo/Eric Learned)
"Oftentimes, travel consideration is where convention attendees start," said Debbie Locklear, president and owner of locally based Meeting Services Unlimited Inc., which handles national trade shows locally and nationally. "If they can't get a good flight, they won't come."

One of Locklear's clients, the massive annual Custom Electronic Design & Installation Association—or CEDIA—show, has been among the most vocal complainers about Indianapolis' lack of nonstop flights, especially from California.

It's a simple productivity issue for the business community, local business leaders said.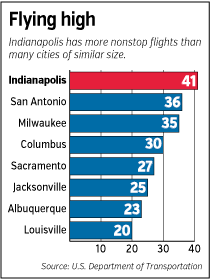 "With the massive increase in technology and the increased speed in which business is done, efficiency of travel is more important than ever," said Indy Chamber CEO Michael Huber.

While Indianapolis' central location has long been a draw for meeting planners and convention-goers from regional cities like Chicago, Cincinnati and Detroit, getting here from more far-flung locations—especially on the coasts—has become a major detractor since 9/11, when air travel became more time-consuming.

Local leaders have heard the complaints for more than a decade, but Visit Indy Vice President Chris Gahl said "meeting planners really turned up the volume on requests for more nonstop flights four years ago [when a $275 million Indiana Convention Center expansion nearly doubled its size]. They say it's our Achilles' heel."

Gaining altitude
With the economy rebounding and airlines beginning to add capacity, Indianapolis Airport Authority Executive Director Mario Rodriguez is keen to get the local airport on airlines' radars.

And the airport-led coalition's lobbying is paying off.

Indianapolis International now has more nonstop flights than airports of many comparable-size cities, including Sacramento, California; San Antonio; Milwaukee; Columbus, Ohio; Albuquerque, New Mexico; Jacksonville, Florida; and Louisville.

"Those nonstop flights certainly give the city another selling point," said Dirk Ebener, who previously ran Atlanta-based conference management firm NurnbergMesse and organized events in Indianapolis. "It's a competitive advantage for sure."

Critical nonstop flights added in the last year include: Washington D.C., where a large number of associations reside; San Francisco, a noted tech hub and portal to Asia air traffic; New York's La Guardia Airport, departure point for many businesses and meeting planners; and Los Angeles, an important West Coast market.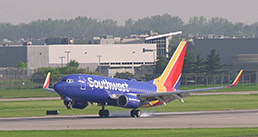 Southwest will begin nonstop service to New York's LaGuardia Airport late this year, and in January will start two nonstop flights to Chicago's Midway Airport. (IBJ photo/Eric Learned)
"The quality of nonstop flights is even more important than quantity," Gahl said. "We're confident we're going to be able to leverage the nonstop flights we have to grow the local hospitality industry."

The airport coalition has negotiated new nonstop routes from established airlines such as Delta, Frontier, Southwest and United, along with relative newcomers Allegiant and OneJet.

Airport officials cull data that has helped convince airlines of the need for the flights, said Rodriguez, who joined Indianapolis International in June 2014.

"We're working with our own data and the local business community to give the airlines information they don't have," he said.

For instance, Rodriguez has provided airlines the number of visitors driving to central Indiana, including where they come from and why they choose to drive instead of fly. The coalition also shares results of surveyed meeting planners and convention attendees.

"We show [airlines] the underserved markets," he said. "That's what we want to go after."

In many cases, local airport officials' data has proven a solid indicator. United Airlines' nonstop flight to San Francisco has sold more than three-fourths of its seats since launching last year, according to the U.S. Department of Transportation.

Local officials have been willing to provide more than data in their recruiting.

United decided last year to add the San Francisco route after the Indiana Economic Development Corp. agreed to provide a $1.5 million backstop for the route's first 15 months. That was the first time IEDC provided a cash incentive to an airline.

Based on the contract, the state paid the airline $1.5 million. State officials said the route is now self-supporting and they don't anticipate making any more payments.

Unique teamwork

In nearly three decades in the air travel industry, Rodriguez said, he's never seen an effort so big and so coordinated as the one under way here to attract nonstop flights.

"The level of cooperation here, I think, is unprecedented," he said. "The initiative is working, and it will bear more fruit."

In the 13 months since Rodriguez landed here from a job as director of the Long Beach Airport in Southern California, Indianapolis International has landed:

• Allegiant Airlines, which began offering nonstop flights to New Orleans, Las Vegas and several Florida destinations.

• OneJet, which offers corporate clients nonstop service to and from Milwaukee; Memphis, Tennessee; and Pittsburgh.

• Vacation Express, which offers nonstop flights to Cancun.

• Nonstop flights to Boston, Los Angeles, Dallas and Washington, D.C., from Southwest Airlines.

Southwest has agreed to offer nonstop flights starting in November to New York's LaGuardia Airport and in January will offer two nonstop flights daily to Chicago's Midway Airport.

Last year, about 40 percent of visitors—10.5 million—to Indianapolis came for a convention or corporate meeting, according to Visit Indy. Gahl said he is confident that, with the number of nonstop flights increasing, that number will grow.

Members of the coalition say their work is not done. The next targets for nonstop flights are Austin, Seattle and San Diego.

"Seattle may be around the corner," Rodriguez said. "Around the corner in our world could be 12 months. The other cities we want [Austin and San Diego], we could get a little further down the line."

Successfully lobbying airlines to add a nonstop route often takes airports months or even years.

"Suffice it to say airlines are trying to squeeze every nickel out of each route they offer," said Joe Brancatelli, airline industry analyst and publisher of Joesentme.com, which covers business travel. "While the airlines are adding capacity, it's still not easy for a city to get the nonstop routes it wants. There has to be a compelling case and oftentimes a lot of persistence on the part of local officials."•