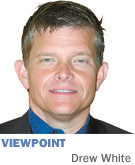 The Indianapolis Museum of Art recently locked its beautiful and symbolic pedestrian/cycling gate at 42nd Street and Michigan Road in April to better secure the campus and sell more memberships. Unfortunately, though, the locked gate prohibits cyclists and pedestrians from entering the campus safely across 42nd Street.
It forces those visitors to travel up Michigan Road to one of the remaining entrances, which are downright dangerous. Try bringing your family to the museum on a bike or on foot using Michigan Road or 38th Street!
Many museums celebrate cycling throughout their campuses, such as the North Carolina Museum of Art in Raleigh with its series of trails that loop the campus and connect to a major trailway. The Rijksmuseum in Amsterdam allows cyclists to ride through the museum via a passageway that is the centerpiece of the museum, and that allows safe connections to various parts of the urban center.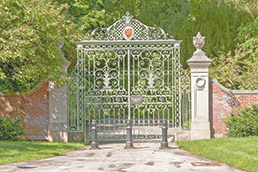 A closed gate to the Indianapolis Museum of Art endangers bicyclists and pedestrians. (IBJ Photo/ Eric Learned)
Our city and region is transforming slowly with discussions about health, wellness, walkable neighborhoods, mixed-use development, place-making, better public transportation and mass transit. Projects like the Cultural Trail, Downtown Transit Center, Indy Greenways Full Circle and the work of the Metropolitan Planning Organization reinforce our desire as a city to be multimodal as well as pedestrian- and cycling-friendly.
As an amateur cyclist who rides no more than 25 miles at a time, I have navigated a route that includes the IMA as a resting place and a moment to enjoy the gardens and outdoor sculptures. The Central Indiana Bicycling Association and INDYCOG (local organizations that provide cycling support and programs) are willing to continue a dialogue with the IMA about cycling safety and perhaps a change in policy for the museum. I am also willing to participate in defining a new approach that will make the IMA, pedestrians and cyclists happy with a compromise to access on the campus.
I have supported the IMA over the past 10 years as a member, patron and volunteer. I have served on the Design Arts Society Affiliate Board for the past six years and was vice president the past two years. My volunteer activities at IMA have focused on planning and organizing lectures that have included famous architects, advocacy leaders, landscape architects and historians.
Many of those lectures focused on community, walkability, connections, cultural networking and thoughtful design. But the museum has failed us in not understanding the messages given in their own sponsored lectures.
I believe the museum is one of our civic and cultural gems, but something has gone awry with the decision to lock the gate without public input.
Please unlock the gate and allow our community the opportunity to connect to the campus.•
__________
White is a partner at Axis Architecture + Interiors. Send comments on this column to ibjedit@ibj.com.
Please enable JavaScript to view this content.