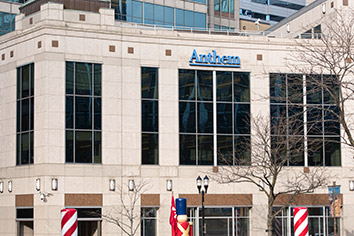 The next challenge for Anthem Inc. in its quest to marry Cigna Corp. is to get its legal guardians to allow the ceremony to happen.
Anthem executives spent a year wooing Cigna, even working through a tiff over which company's CEO would run the combined company. They finally announced the $54 billion deal early Friday.
But they're not done yet. The U.S. Department of Justice, the Federal Trade Commission and insurance regulators in all the states Anthem and Cigna operate in will have to sign off on the merger.
And the Anthem-Cigna nuptials won't be the only union they'll be scrutinizing. That's because, on July 3, two other health insurance giants, Aetna Inc. and Humana Inc., agreed to a $34 billion merger.
Together, those two deals would reduce the nation's five largest health insurers to three, with Minnesota-based UnitedHealth Group still the industry leader by revenue.
Regulators will be looking simultaneously at how both a combined Anthem-Cigna and a combined Aetna-Humana will affect competition for customers and negotiations with health care providers.
"Economic studies in the past have found that these mergers lead to higher premiums and worse service for consumers," said David Balto, an antitrust attorney in Washington, D.C., in an interview with Bloomberg News. "This sets up a scenario where the [Department of Justice] may well go into court to block both deals."
The Obama administration might take a harder line on the insurance mergers because they work against one of the main goals of the Affordable Care Act: to promote more competition among health insurers, Balto said.
Investors are taking that risk seriously. After news broke that an Anthem-Cigna deal was imminent, shares of Cigna on July 23 rose as much as 4.5 percent, to $158 per share. But that was still $30 per share below Anthem's reported offering price.
Meanwhile, Humana's shares have been trading at about $185 apiece, even though Aetna's purchase offer would pay $230 per share.
"There is some concern about regulatory and FTC concerns and the time it will take to close the deal," wrote Les Funtleyder, a health care portfolio manager at E Squared Asset Management, in an email. "Also, there will no doubt be some divestitures required."
But most Wall Street analysts think divestitures will be modest and that the deals will still go through.
Analysts at Morgan Stanley published on July 22 a review of the past 11 years of health insurance mergers among the five largest companies. They found that in only five of the 18 deals did either the federal government or state regulators require divestitures.
And even when they did so, those divestitures were focused mostly on market concentrations at the county level, particularly involving Medicare Advantage customers.
Regulators did require some changes after one of UnitedHealth's mergers because they were concerned the insurer would have too much bargaining power with doctors and hospitals in a few local markets.
Morgan Stanley analyst Andrew Schenker wrote that he expected "limited" divestitures for the Aetna-Humana deal. He did not analyze the Anthem-Cigna deal in that report.
Brian Wright, an analyst at Sterne Agee CRT, came to the same conclusion about the Anthem-Cigna deal.
"Historically, the FTC/DOJ have looked at health care services mergers on a local county by product basis and not a national basis," Wright wrote in a July 21 note to investors. He said the antitrust risk is "more likely to extend [the] merger time line than anything stronger, in our view."
He noted that Anthem and Cigna would have no more than 36 percent of the national market, even when counting Anthem's relationships with other Blue Cross health plans that can boost its bargaining power with providers.•
For IBJ's full coverage of the Anthem-Cigna deal, click here.
Please enable JavaScript to view this content.